Podcast: Play in new window | Download
Subscribe: RSS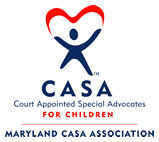 In the first half of today's show, Marc sat down with New York Times columnist Charles Blow to discuss his article No More Excuses? from Saturday's Times. The piece criticizes those who believe that because the U.S. has elected its first African American President, black children have no excuse to fail. Instead, he argues, success is the result of many factors, many of which kids have no control over.
In the second half of the show, Marc speaks to advocates who work for children here in Maryland. In Baltimore, City Judges and Masters conduct approximately 30,000 child maltreatment hearings per year. The Maryland Association of Court Appointed Special Advocates (Maryland CASA) provides adult mentors who work with and assist children at those hearings. Ed Kilcullen is the State Director of Maryland CASA, and Charles Harris is a volunteer with the organization. They joined us to discuss their work and the challenges facing abused and neglected children.
For information on volunteering with or donating to Maryland CASA, visit their Ways to Help web page, or call (888) 833-2272.
On Sunday, February 15th, at 3pm, the BSO and CASA will team up for a concert and silent auction to benefit CASA Baltimore. Conductor Marin Alsop and and tap trailblazer Savion Glover collaborate with the BSO to bring you this special event. More information available here.