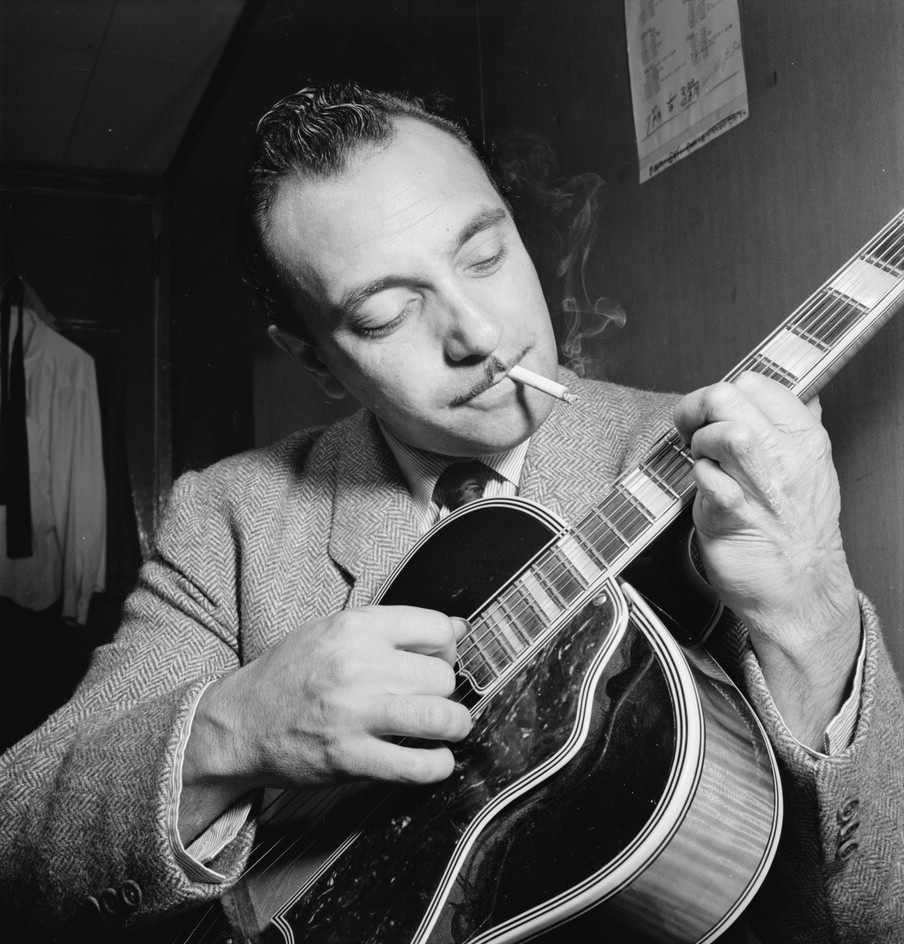 Podcast: Play in new window | Download
Subscribe: RSS
January 23, 2014 – Segment 1
Marc shares some of what happened on this day in history, including Bounty Day, the day Elizabeth Blackwell became the first female doctor, and the birthday of jazz guitarist Django Reinhardt.
Today is:
Bounty Day is a holiday on both Pitcairn Island, destination of the HMS Bounty mutineers, and on Norfolk Island. It is celebrated on January 23 on Pitcairn, and on June 8 on Norfolk Island, the day that the descendants of the mutineers arrived on the island. It is named for the Bounty, although the ship never saw Norfolk Island.
National Pie Day occurs on January 23. "preserving America's pie heritage and promotes America's love affair with the food".
On this day in history:
1689: Today, Saco, in southwestern Maine would be attacked by ABNAKI Indians, one in a series of attacks on the settlement. Nine settlers would be killed in the fighting.
1789 – Georgetown College, the first Catholic University in the United States, is founded in Georgetown, Maryland (now a part of Washington, D.C.)
1812: After Tecumseh visited the CREEKs, he told them to wait for a sign which would tell then it was time to begin their uprising against the Europeans. Tecumseh said he would stamp the ground and make every house in Tuckabatchee fall down. Today, the CREEK Nation will be shaken by an earthquake. Many of the younger braves will feel this is the awaited for sign. They will be cautioned by calmer heads to wait for a less ambiguous event.
1849 – Elizabeth Blackwell is awarded her M.D. by the Geneva Medical College of Geneva, New York, becoming the United States' first female doctor.
Quote: I do not wish to give [women] a first place, still less a second one—but the most complete freedom, to take their true place whatever it may be
1870 – In Montana, U.S. cavalrymen kill 173 Native Americans, mostly women and children, in the Marias Massacre.
1879, Anglo-Zulu War of 1879: Rorke's Drift – Following an overnight battle at Rorke's Drift, 150 British and Imperial soldiers successfully defended this isolated station against a force of more than 3,000 Zulu warriors, at a cost of 15 dead and ten wounded. Hailed as heroes across the British Empire, 11 of the defenders were awarded the Victoria Cross. (It was only in 1999 that a memorial was finally constructed to the brave Zulu warriors who fought for their beleaguered nation.)
1891 – The Chicago Provident Hospital, founded by Dr. Daniel Hale Williams, opened the first training school for Black nurses
1897 – Elva Zona Heaster is found dead in Greenbrier County, West Virginia. The resulting murder trial of her husband is perhaps the only case in United States history where the alleged testimony of a ghost helped secure a conviction.
1899 – The Malolos Constitution is inaugurated, establishing the First Philippine Republic.
1900 – The Battle of Spion Kop between the forces of the South African Republic and the Orange Free State and British forces during the Second Boer War ends in a British defeat.
1903 – Colonel Arthur Alfred Lynch is found guilty of high treason and sentenced to death for leading the "Irish Commando" against British forces in the Anglo-Boer War.
1913 – Some 10,000 clothing workers strike in Rochester, N.Y., for the 8-hour day, a 10-percent wage increase, union recognition, and extra pay for overtime and holidays. Daily parades were held throughout the clothing district and there was at least one instance of mounted police charging the crowd of strikers and arresting 25 picketers. Six people were wounded over the course of the strike and one worker, 18-year-old Ida Breiman, was shot to death by a sweatshop contractor. The strike was called off in April after manufacturers agreed not to discriminate against workers for joining a union
1935 – French colonial troops are massacred by Abyssinian tribesmen in Somaliland.
1936 – In Allegany County, MD, workers with the Civilian Conservation Corps, a New Deal era public works program employing unmarried men aged 18-25, are snowbound at Fifteen Mile Creek Camp S-53 when they receive a distress call about a woman in labor who needs to get to a hospital.  20 courageous CCC volunteers dig through miles of snow drifts until the woman is successfully able to be transported
1937 – In Moscow, 17 leading Communists go on trial accused of participating in a plot led by Leon Trotsky to overthrow Joseph Stalin's regime and assassinate its leaders.
1941 – Charles Lindbergh testifies before the U.S. Congress and recommends that the United States negotiate a neutrality pact with Adolf Hitler.
1943 – Duke Ellington plays at Carnegie Hall in New York City for the first time.
1950 – The Knesset passes a resolution that states Jerusalem is the capital of Israel.
1953 – NFL Dallas Texans become Baltimore Colts (now Indianapolis Colts)
1956, Rock 'n' Roll fans in Cleveland aged under 18 were banned from dancing in public (unless accompanied by an adult), after Ohio Police introduced a law dating back to 1931.
1957 – American inventor Walter Frederick Morrison sells the rights to his flying disc to the Wham-O toy company, which later renames it the "Frisbee".
1958 – After a general uprising and rioting in the streets, President Marcos Pérez Jiménez leaves Venezuela.
1958 – Althea Gibson was named "Female Athlete of the Year," becoming the first Black female athlete to be so honored on this date
1961 – The Portuguese luxury cruise ship Santa Maria is hijacked by opponents of the Estado Novo regime with the intention of waging war until dictator António de Oliveira Salazar is overthrown.
1963 – The Guinea-Bissau War of Independence officially begins when PAIGC guerrilla fighters attack the Portuguese army stationed in Tite.
1964 – The 24th Amendment to the U.S. Constitution was ratified by Congress on this date in 1964.  This Amendment outlawed the poll tax, a tax that diminished the participation of Blacks in federal elections.
1973 – President Richard Nixon announces that a peace accord has been reached in Vietnam.
1977 – ABC-TV began televising the Roots mini-series on this date in 1977.  Based on Alex P. Haley's book, Roots was the most watched mini-series in history, commanding some 130 million viewers.
1986 – The Rock and Roll Hall of Fame inducts its first members: Little Richard, Chuck Berry, James Brown, Ray Charles, Fats Domino, the Everly Brothers, Buddy Holly, Jerry Lee Lewis and Elvis Presley.
1988, Michael Jackson went to No.1 on the US singles chart with 'The Way You Make Me Feel' which was also a No.3 hit in the UK.
1991, John Sebastian, owner and general manager of KLSK FM in Albuquerque, New Mexico, played Led Zeppelins 'Stairway To Heaven' for twenty-four solid hours to inaugurate a format change to Classic Rock. Police showed up with guns drawn: once after a listener reported that the DJ had apparently suffered a heart attack, and later because of suspicion that, this being eight days into the Gulf War, the radio station had been taken hostage by terrorists dispatched by Zeppelin freak Saddam Hussein.
1997 – Madeleine Albright becomes the first woman to serve as United States Secretary of State.
2000, Santana started a three week run at No.1 on the US album chart with 'Supernatural', the album which went on to win eight Grammy awards spent a total of nine weeks at No.1 during this year.
2001 – Five people attempt to set themselves on fire in Beijing's Tiananmen Square, an act that many people later claim is staged by the Communist Party of China to frame Falun Gong and thus escalate their persecution.
2002 – Reporter Daniel Pearl is kidnapped in Karachi, Pakistan and subsequently murdered .
Born on this day in history:
1737 – John Hancock – Founding father and prominent Patriot of the American Revolution who was the first and third Governor of the Commonwealth of Massachusetts.
1832 – Edouard Manet – "Le Bar aux Folies-Bergère" painter whose scenes of Parisian life bridged the gap between Realism and Impressionism.
1837 – Amanda Berry Smith (January 23, 1837 – February 24, 1915)[1] was a former slave who became an inspiration to thousands of women both black and white. She was born in Long Green, Maryland, a small town in Baltimore County. Her father's name was Samuel Berry while her mother's name was Mariam. Her father, a slave, worked for years at night and after long days of field labor, he had to make brooms and husk mats to pay for freedom for his whole family of seven.  She became well known for her beautiful voice and inspired teaching and hence, opportunities to evangelize in the South and West opened up for her.
1849 – James Monroe Gregory, the first graduate of Howard University, was born in Lexington, VA
1898 – Randolph Scott – He was the leading man in numerous Hollywood films from 1928 to 1962.
1910, Born on this day, Django Reinhardt, jazz guitarist. He badly burned his third and fourth fingers of his left hand in a house fire aged 18. Doctors suggested he play the guitar to keep his fingers flexible, giving him his two fingered guitar style. Has worked with Stepane Grappelli and Duke Ellington. Reinhardt died of a stroke on 15th May 1953.
1915 – Potter Stewart, Supreme Court Justice – His "I know it when I see it" phrase, relating to the threshold test for hard-core pornography, became a famous expression.
1918 – Gertrude Belle Elion (January 23, 1918 – February 21, 1999)[1] was an American biochemist and pharmacologist, and a 1988 recipient of the Nobel Prize in Physiology or Medicine. Working alone as well as with George H. Hitchings, Elion developed a multitude of new drugs, using innovative research methods that would later lead to the development of the AIDS drug AZT.
1919 – Ernie Kovacs – Innovative TV comedian, writer, and actor whose shows, Three to Get Ready and Kovacs on the Corner, were known for their experimental style. He was inducted into the Academy of Television Arts & Sciences Hall of Fame in 1987, years after his death.
1944, Born on this day, Jerry Lawson, singer with The Persuasions, a-cappella group, who worked with Joni Mitchell, Stevie Wonder and Don McLean.
1944 – Lourdes Portillo – Screenwriter especially known for writing the screenplay, Selena.
1948, Born on this day, Anita Pointer, singer, with The Pointer Sisters who had the 1981 US No.2 single, 'Slow Hand', and the 1984 UK No.2 single 'Automatic'.
1950, Born on this day, Pat Simmons, guitarist, singer with The Doobie Brothers who had the 1979, US No.1 single 'What A Fool Believes' and the 1993 UK No.7 single 'Long Train Runnin'.
1950, Born on this day, Bill Cunningham, bass, piano, The Box Tops who had the 1967 US No.1 & UK No.5 single 'The Letter'.
On this day in history, we lost:
1976 – Paul Robeson, actor, singer, athlete, and activist, died in Philadelphia, PA, on this date in 1976.  The famous actor graduated from Rutgers University, became a Presbyterian minister, and obtained a law degree from Columbia University.
1980 – Paul Revere Williams, NAACP Spingarn Medal recipient and architect who designed the Hollywood YMCA and fabulous homes for celebrities, died on this date
1998, US soul singer Johnny Funches from The Dells died. Had the 1956 hit 'Oh What a Night' and 1968 US No.10 single 'Stay In My Corner'. The Dells formed in 1952 after all attending high school together.
Sources: The People History; Wikipedia List of Historical Anniversaries; This Day in Women's History; This Day in Jewish History; This Day in African History;History.com; History Orb; Yenoba; Phil Konstantin's North American Indian History; and This Day in Music