Podcast: Play in new window | Download
Subscribe: RSS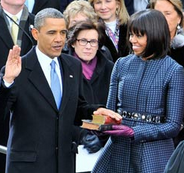 We turn to the Presidential Inauguration that took place yesterday and analyze President Obama's rhetoric at the start of his second term. Discussing this are:
Dr. Kimberly Moffitt, Assistant Professor of American Studies at UMBC and author of Blackberries and Redbones: Critical Articulations of Black Hair and Body Politics in Africana Communities;
E.R. Shipp, Journalist in Residence and Associate Professor of Journalism at Morgan State University, and 1996 Pulitzer Prize winner;
and Tyrone Keys, political analyst and author of the novel Quantum Dawn.