Podcast: Play in new window | Download
Subscribe: RSS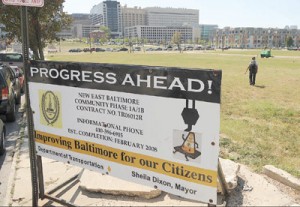 First, an update on protests in Egypt with Nancy Youssef from McClatchy Newspapers, Dina Yehia, a graduate of the American University in Cairo, and her father Yehia Salah El Din, an opthamologist in Cairo.
Last week we spoke with journalists Melody Simmons and Joan Jacobson about their series in the Daily Record, Too big to fail? Betting a billion on East Baltimore. Today we'll speak with some of the key figures from EBDI and supporting organizations as well as members of the community around the development.  We'll be joined by:
Christopher Shea, CEO of East Baltimore Development Inc.
Douglas W. Nelson, President and CEO of the Annie E. Casey Foundation
Chabria Thomas, Community Organizer and former SMEAC employee
Joshua Garoon, Kellog Health Scholar at Johns Hopkins