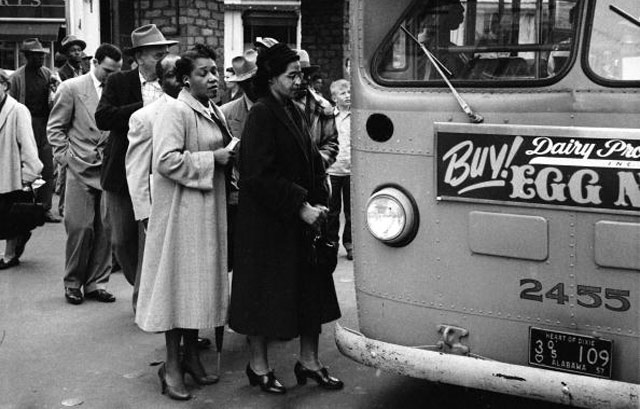 Podcast: Play in new window | Download
Subscribe: RSS
February 4, 2014 – Segment 1
Marc talks about some of the events that took place on this day in history, including the day France abolished slavery, the day Facebook was created, and the birthday of Rosa Parks.
Today is:
Independence Day, celebrates the independence of Sri Lanka from the United Kingdom in 1948.
World Cancer Day (International)
Day of the Armed Struggle (Angola) 1969 – MPLA begins armed struggle against Portugal in Angola.
On this day in history:
1789 – George Washington is unanimously elected as the first President of the United States by the U.S. Electoral College.
1794 – France abolishes slavery. The nation will have a lukewarm commitment to abolition and will, under Napoleon, reestablish slavery in 1802 along with the reinstitution of the "Code noir", prohibiting blacks, mulattoes and other people of color from entering French colonial territory or intermarrying with whites.
1825 – The Ohio legislature authorizes construction of the 249-mile Miami and Erie Canal, to connect Toledo to Cincinnati. Local historians say "Irish immigrants, convicts and local farmers used picks, shovels and wheelbarrows," at 30 cents per day, to construct the 249-mile-long waterway
1847 – 1st US telegraph co established in Maryland
1847: General Sterling Price returns to the fortified TAOS Pueblo, and 2 hours of cannonade are, again, unsuccessful. Price's troops attack and make some headway.. The cannon is moved closer, and now breaches a wall. The troops swarm through a hole in the church, and through other buildings. Many of the PUEBLO Indians try to escape, but are cut down by volunteers stationed on the east of the pueblo. One of the leaders of the revolt, Jesus de Tafoya, is killed in the fighting.
1861 – American Civil War: In Montgomery, Alabama, delegates from six break-away U.S. states meet and form the Confederate States of America.
1861: John Ward's step-son Feliz Tellez is kidnapped by Indians from his rancho on Sonoita Creek in Arizona. Ward complains to the army, and they send Second Lt.George Bascom, and 54 soldiers to find him. Today, CHIRICAHUA APACHE Chief Cochise is invited to talk with Bascom in Apache Pass, in southwestern Arizona. Cochise brings some family with him to the parlay in Bascom's tent. Cochise is shocked when Bascom accuses him of kidnapping the boy. Cochise denies his involvement, but Bascom does not believe him. Bascom then tells Cochise he is under arrest. Cochise cuts a hole in the tent, and escapes. Bascom will keep Cochise's relatives as hostages. Cochise will quickly seize several whites has hostages, as well.
1922 : Lincoln purchased the Ford Company for $8 million dollars on this day. During the time of this transition, Henry Ford had assumed position of president of Lincoln.
1932 : The first Winter Olympics was held in the United States. These games took place in Lake Placid, New York.
1932 – Unemployment demonstrations take place in major U.S. cities
1937 – Thirty-seven thousand maritime workers on the West Coast strike for wage increases
1938 : The animated film Snow White and the Seven Dwarfs was released and had major success in the box-office, making more money than any other motion picture up till that point
1941 – The United Service Organizations, popularly known as the USO, was incorporated in New York on February 4, 1941, to provide recreational opportunities and resources for members of the U.S. armed forces on leave.
1943 : Ransom Eli Olds, the creator of one of the first internal combustion engine designs, received his last patent on this day. Olds was noted for creating the first automobile production line, through a company that has made cars such as the Olds Runabout.
1948 : Ceylon now Sri Lanka gains independence from British rule and becomes an independent dominion within the British Commonwealth.
1950 : On this day a British Atomic scientist was arrested and charge of gathering information that would be useful to enemy forces. He was the holder of some of the most classified (top secret) information regarding the A-bomb. He was found out by American FBI agents, and these agents reported the info to the Scotland Yard.
1957 : This was the first day of the sale of Smith-Corona portable typewriters. This company had been producing typewriters since 1886, when it created the first upper and lower-case typing model.
1964 : As of this date, it was no longer legal to charge a poll tax for voting. This action was repealed upon the passing of the 24th Amendment.
1964 – Austin T. Walden became Georgia's first Black Judge since Reconstruction on this date in 1964.
1967 – Crew of the US carrier FDR are refused leave in South Africa because of the apartheid laws.
1968 : The continued persecution of Asians in Kenya is forcing many thousands to leave the country and many are choosing Britain for their future . Kenya has introduced new tough immigration laws which only allow work permits to Kenyan Citizens.
1969 : The Palestine Liberation Organization was founded on this day. It was an organization that was established to represent the Palestinian people while Yasir Arafat was in office.
1971 – National Guard mobilized to quell rioting in Wilmington, North Carolina. Two persons killed.
1974 : UK – A bomb believed to have been set by the IRA kills 11 including soldiers and children when the coach they were travelling in is blown up by a bomb.
1974 : Newspaper heiress Patricia Hearst is kidnapped in Berkeley, California by the Symbionese Liberation Army
1986: Sojourner Truth (Isabella Baumfree), preacher, abolitionist, speaker, and women's rights advocate, was commemorated on a U.S. postage stamp on this date in 1986.
1988 : Ferry ports in the UK are causing major congestion on roads on the south coast as British Seamen continue their strike without union backing. The strike is because of the increase of cheaper low-cost Third World crews, while making British Seamen redundant .
1992 – A coup d'état is led by Hugo Chávez against Venezuelan President Carlos Andrés Pérez.
1996 – J.C. Watts becomes the first Black selected to respond to a state of the union address.
1997 : A civil jury panel in Santa Monica, California had determined that O.J. Simpson was guilty of the deaths of both his ex-wife Nicole Brown-Simpson and her friend Ronald Goldman. He had originally been acquitted in the year 1995.
1999 – Unarmed West African immigrant Amadou Diallo is shot dead by four plainclothes New York City police officers on an unrelated stake-out, inflaming race-relations in the city.
2003 : Lawmakers formally dissolve Yugoslavia and replace it with a loose union of Serbia and Montenegro.
2004 : The Massachusetts high court declare that gays are entitled to get married.
2004 : Facebook, a mainstream online social network is founded by Mark Zuckerberg.
2006 : Syria – Following the publishing of caricatures of the prophet Muhammad Muslim protesters torched and destroyed the Danish and Norwegian embassies in Damascus. And in Gaza, Palestinians marched through the streets, storming European buildings and burning German and Danish flags.
2007 : Three former military officers have warned against a military strike on Iran, and said that such action would have 'disastrous consequences' for the security in the Middle-east, and for coalition forces in Iraq. They agree that the crisis over Iran's nuclear program should be resolved through diplomacy, and urge Washington to start direct talks with that country. These warnings were published in Britain's Sunday Times newspaper, and signed by: Lieutenant-General Robert Gard, a former military assistant to the U.S. Defense Secretary, General Joseph Hoar, a former Commander-in-Chief, U.S. Central Command and Vice Admiral Jack Shanahan, a former Director of the Center for Defense Information.
2008 : A Federal judge has ruled that the Navy must follow environmental laws by placing limits on its mid-frequency sonars. District Judge Florence-Marie Cooper has written that the Navy is not exempt from a compliance with the National Environmental Policy Act, and a court injunction has created a 12-nautical-mile no-sonar zone along the coastline of southern California. President Bush had decided to exempt the Navy from this law.
2009 : The new African Union (A.U.) chairman, Libya's Muammar Gaddafi, has said that multi-party democracy in Africa always leads to bloodshed. He was speaking at the A.U. summit in Ethiopia, where he went on to explain that Africa was essentially tribal environment, and that political parties themselves became tribalised, which led to further bloodshed. He concluded that the best model for Africa was his own country, where opposition parties are not allowed.
2009 – President Barack Obama imposes $500,000 caps on senior executive pay for the most distressed financial institutions receiving federal bailout money, saying Americans are upset with "executives being rewarded for failure"
2010 : The Department of Justice has said that it is not satisfied with a deal that allows the search engine Google to build a vast digital library. It says that the plan fails to address its antitrust and copyright concerns. It has been following the online retailer Amazon's complaints that Google's plan to scan and distribute books online could lead to a monopoly. The Department of Justice is advising the U.S. District Court for the Southern District of New York that issues in the settlement agreement from The Authors Guild Inc. et al. v. Google Inc., class certification, copyright and antitrust still remain.
2010 : Barack Obama's Kenyan aunt has appeared at a court in Boston on a second attempt to gain political asylum in the United States. The immigration hearing for 57-year-old Zeituni Onyango has ended without an immediate decision on her asylum. The half-sister of Mr. Obama's father, Onyango had moved to the U.S. in 2000. Her first asylum application was rejected in 2004, and she was ordered to be deported, but continued living in public housing in Boston. Her immigration status became an issue during Mr. Obama's election campaign. He said at the time that he was not aware of his aunt being in the U.S. illegally.
2011 :  President Benigno Aquino of the Philippines announced a nationwide ban on logging after the country suffers from flooding and mudslides. In January over seventy people died from floods and President Aquino believed that too much logging might have contributed to the causes of the flooding.
2012 : Police in Mexico have announced that they captured and arrested Jose Antonio Torres Marrufo, the suspected leader of the Gente Nueva gang (a part of the Sinaloa drug cartel). Police arrested him and his bodyguard in Leon and say that the two men were carrying weapons and crystal meth.
2013 : The government of France has overturned a two-hundred year law that banned women from wearing trousers. The law had effectively been out of use for several years as people just ignored the law, however the change would make it formally legal for women to wear trousers.
Born on this day in history:
1677 – Johann Ludwig Bach (4 February 1677 – 1 May 1731) was a composer and violinist.
1869 – "Big Bill" Haywood born in Salt Lake City, Utah: Leader of Western Federation of Miners, Wobblies (IWW) founder
1906 – Clyde Tombaugh, American astronomer, discovered Pluto (d. 1997)
1913 – Rosa Parks, whose refusal to give up her bus seat to a white man launched the 1955 Montgomery, Ala., bus boycott and the birth of the civil rights movement, is born in Tuskeege, Ala.
"I would like to be known as a person who is concerned about freedom and equality and justice and prosperity for all people."
1918 – Born – Ida Lupino was an English-American film actress and director, and a pioneer among women filmmakers. In her forty-eight year career, she appeared in fifty-nine films and directed seven others
1921: Betty Friedan born – author of The Feminine Mystique (1963) identifying the "problem that has no name" and the question of the educated housewife: "Is this all?"; founder and first president of the National Organization for Women (NOW)
"The only way for a woman, as for a man, to find herself, to know herself as a person, is by creative work of her own. There is no other way."
1975 – Natalie Imbruglia, Australian singer-songwriter and actress
On this day in history, we lost:
2006: Betty Friedan died
1894 – Adolphe Sax, Belgian instrument maker, invented the Saxophone (b. 1814)
1911 – Death of Pieter Arnoldus Cronje, Boer general responsible for victories at Modder River and Magersfontein.
1975 – Louis Thomas Jordan[1] (July 8, 1908 – February 4, 1975)[2] was a pioneering American musician, songwriter and bandleader who enjoyed his greatest popularity from the late 1930s to the early 1950s. Known as "The King of the Jukebox", he was highly popular with both black and white audiences in the later years of the swing era.
1983: Karen Carpenter died
1987 – Carl Ransom Rogers (January 8, 1902 – February 4, 1987) was an influential American psychologist and among the founders of the humanistic approach (or client-centered approach) to psychology.
1987 – Meena Keshwar Kamal, Afghan activist, founded the Revolutionary Association of the Women of Afghanistan (b. 1956)
1987 – Liberace, American singer-songwriter and pianist (b. 1919)
2001 – J. J. Johnson (born James Louis Johnson; January 22, 1924, Indianapolis, Indiana – February 4, 2001) was a United States jazz trombonist, composer and arranger.
2010 – Kostas Axelos, Greek philosopher (b. 1924)
2013 – Donaldson Toussaint L'Ouverture Byrd II (December 9, 1932 – February 4, 2013) was an American jazz and rhythm and blues trumpeter. A sideman for many other jazz musicians of his generation, Byrd was best known as one of the only bebop jazz musicians who successfully pioneered the funk and soul genres while simultaneously remaining a jazz artist.
Sources: The People History; Wikipedia List of Historical Anniversaries; This Day in Women's History; This Day in African History;History.com; History Orb; Yenoba; Selected Black Facts; Phil Konstantin's North American Indian History; and This Day in Music