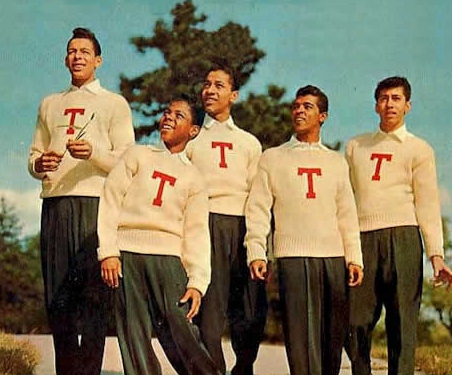 Podcast: Play in new window | Download
Subscribe: RSS
February 28, 2014 – Segment 1
Marc talks about what happened on this day in history, including a slave revolt in Long Island, NY, the day Richard Wright's Native Son was published, and the day Frankie Lymon was found dead.
Today is:
Kalevala Day, the day of Finnish Culture. (Finland)
National Science Day (India)
Peace Memorial Day (Taiwan)
Teachers' Day (Arab countries)
The third day of Ayyám-i-Há (Bahá'í Faith)
Rare Disease Day (last day of February)
On this day in history:
1708: Slave revolt, Newton, Long Island (N.Y.). Seven whites killed. Two Black male slaves and an Indian slave were hanged, and a Black woman was burned alive.
1778: Rhode Island General Assembly in precedent-breaking act authorized the enlistment of slaves.
1827: The Baltimore & Ohio Railroad is incorporated, becoming the first railroad in America offering commercial transportation of both people and freight.
1859: Arkansas legislature required free Blacks to choose between exile and enslavement.
1879: Southern Blacks fled political and economic exploitation in "Exodus of 1879." Exodus continued for several years. One of the major leaders of the Exodus movement was a former slave, Benjamin ("Pap") Singleton.
1922: After 40 years of British rule following Great Britain seizing control of Egypt's government in 1882 over concerns for British interests including the Suez Canal. Due to the calls by the powerful local nationalist movement for independence for Egypt Great Britain announces a unilateral declaration of Egypt's independence.
1932: Richard Spikes invented/patented automatic gear shift.
1935: DuPont scientist Wallace Carothers invents nylon.
1940: Richard Wright's Native Son published.
1953: James D. Watson and Francis Crick announce to friends that they have determined the chemical structure of DNA; the formal announcement takes place on April 25 following publication in April's Nature (pub. April 2).
1954: The first color television sets using the NTSC standard are offered for sale to the general public.
1963: President John F. Kennedy asks congress for civil rights law giving voting rights safeguards against racial discrimination.
1970: Simon and Garfunkel started a six week run at the top of the US singles chart with 'Bridge Over Troubled Water', also No.1 in the UK in March the same year.
1983: The final episode of M*A*S*H, a series about the staff of an Army hospital during the Korean War entitled ( Goodbye, Farewell and Amen ) became the most-watched television episode in U.S. history, with viewer estimates at 106 million Americans.
1993: A raid by Bureau of Alcohol, Tobacco and Firearms ATF agents who were trying to serve warrants for illegal guns on the heavily armed compound of a religious cult 10 miles outside of Waco, Texas turns into a bloody gun battle, leaving at least four Federal agents and two cult members dead and at least 15 agents injured.
1984: Musician and entertainer Michael Jackson wins eight Grammy Awards. His album, "Thriller", broke all sales records to-date, and remains one of the top-grossing albums of all time.
2008: A new study of U.S. prisons has found that there is an all-time-high in the numbers of people in jail. The Pew Center report has called the U.S. the global leader in the rate at which it imprisons its citizens, and over 2.3 million people were being held in 2008. This number is larger than other countries with large prison populations like China, Russia and Iran. The report has called for fewer low-risk offenders being sent to jail.
Born on this day in history:
1670: Benjamin Wadsworth, American clergyman and academic (d. 1737)
1901: Linus Pauling, American chemist and activist, Nobel Prize laureate (d. 1994)
1906: Bugsy Siegel, American gangster (d. 1947)
1931: Dean Smith, American basketball player and coach.
1938: Mike Wofford, American pianist and composer.
1939: Tommy Tune, American actor, singer, dancer, and director.
1940: Mario Andretti, Italian-American race car driver.
1943: Barbara Acklin, American singer-songwriter (d. 1998)
1945: Born on this day, Ronnie Rosman, from Tommy James & The Shondells who had the 1966 US No.1 single 'Hanky Panky', 1968 UK No.1 single 'Mony Mony'.
1945: Bubba Smith, American football player and actor (d. 2011)
1952: Born on this day, Eddie Manion, from Southside Johnny and the Asbury Jukes who had the 1978 album 'Hearts Of Stone'.
1953: Paul Krugman, American economist, Nobel Prize laureate.
1954: Brian Billick, American football player, coach, and sportscaster
1957: John Turturro, American actor, director, and screenwriter.
On this day in history, we lost:
1891: George Hearst, American businessman and politician (b. 1820)
1916: Henry James, American-English author (b. 1843)
1967: Henry Luce, Chinese-American publisher, co-founded Time Magazine (b. 1898)
1968: Frankie Lymon was found dead at his mother's house in New York of a suspected drug overdose, he was 25.
1977: Eddie Anderson, American actor (b. 1905)
1978: Zara Cully, American actress (b. 1892)
1990: Rock and Roll Hall of Fame inductee Cornelius Gunter, lead singer of the Coasters, was shot to death in Las Vegas, Nevada. Gunter joined the group in 1957 and was around for such hits as "Poison Ivy" and "Charlie Brown."
2007: Arthur M. Schlesinger, Jr. American historian and critic (b. 1917)
2008: Drummer Buddy Miles, who played with Jimi Hendrix in his last regular group, Band of Gypsys, died aged 60 at his home in Austin, Texas after struggling with a long-term illness. Born George Allen Miles in Omaha, Nebraska, Buddy's nickname was a tribute to his idol, jazz drummer Buddy Rich. Rich also played with The Delfonics, The Ink Spots, Wilson Pickett, Electric Flag, Stevie Wonder, David Bowie, Muddy Waters and Barry White. In the 1980s, he achieved a certain amount of notoriety in the US as the vocalist on the celebrated claymation California Raisins commercials.
2009: Paul Harvey, American radio host (b. 1918)
2011: Jane Russell, American actress (b. 1921)
Sources: The People History; Wikipedia List of Historical Anniversaries; This Day in Women's History; This Day in African History;History.com; History Orb; Yenoba; Selected Black Facts; Phil Konstantin's North American Indian History; and This Day in Music