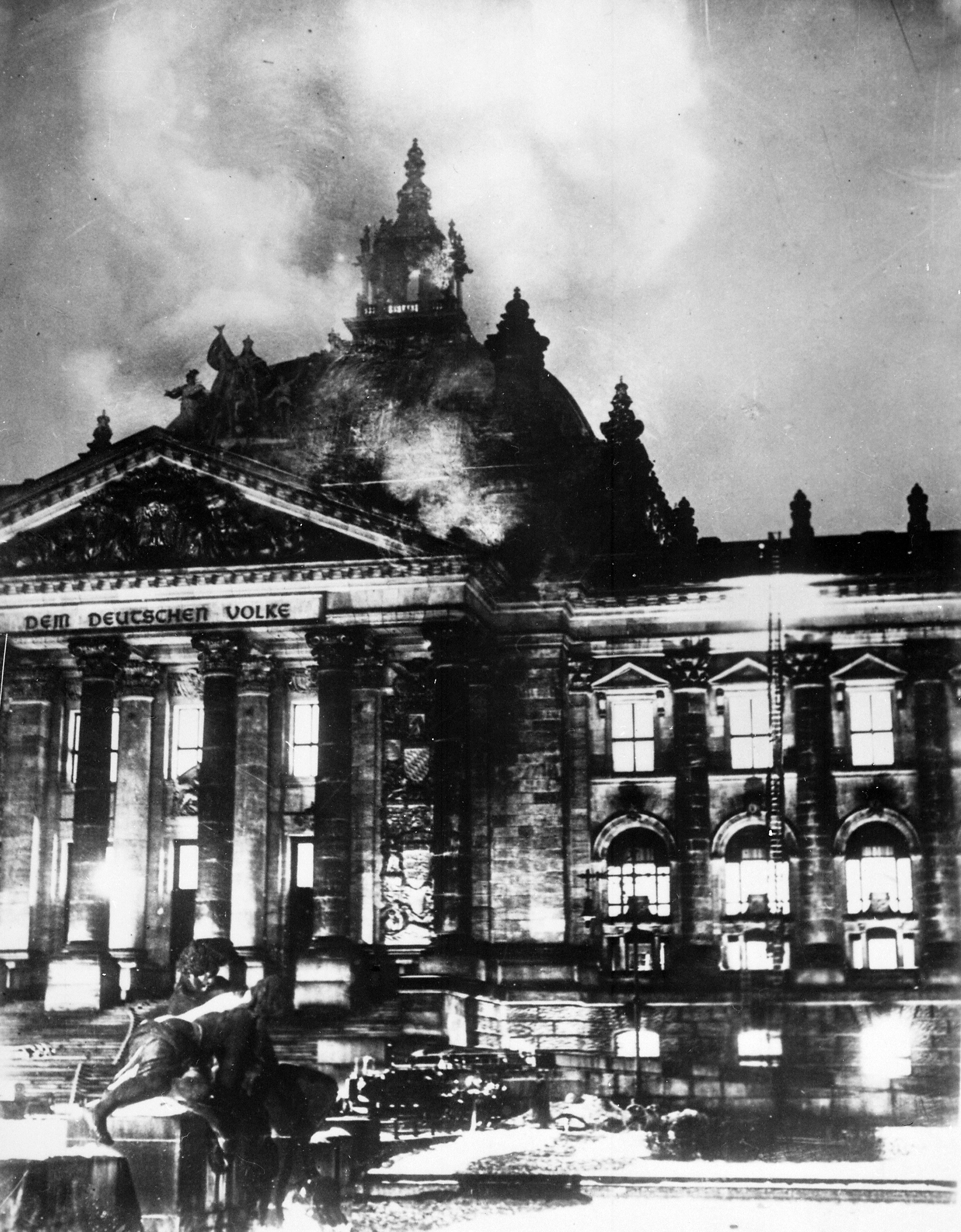 Podcast: Play in new window | Download
Subscribe: RSS
February 27, 2014 – Segment 1
Marc shares some of what happened on this day in history, including the death of singer Frankie Lymon, the Supreme Court ruling that the 19th amendment, which gave women the right to vote, was constitutional, and the 1933 Reichstag fire, when Nazis burned Germany's parliament building in Berlin, a crucial moment in their rise to power.
Today is:
National Day, celebrates the first independence of Dominican Republic from Haiti in 1844.
The second day of Ayyám-i-Há (Bahá'í Faith)
On this day in history:
1869: Congress adopted the 15th constitutional amendment, making it illegal for the US or any
single government to deny or abridge the right to vote "on account of race, color or previous
condition of servitude."
1872: Charlotte Ray graduates from Howard Law School. She is the first African American
lawyer in the U.S.
1921: The International Working Union of Socialist Parties is founded in Vienna.
1922: Supreme Court of the United States found that the 19th Amendment, giving women the
vote, was constitutional. The right of women to vote (as well as the right of women to engage
in many other activities) was declared constitutional by all of the members of the U.S. Supreme
Court. It took seventy years of fighting and petitioning to make this women's suffrage legislation
a reality. Women and men both were advocating equal rights for women as far back as in the
early 19th Century.
1933: Reichstag fire: Germany's parliament building in Berlin, the Reichstag, is set on fire.
1939: United States labor law: The U.S. Supreme Court rules that sit-down strikes violate
property owners' rights and are therefore illegal.
1951: The 22nd amendment to the Constitution is ratified which changes the law so no man
or woman may serve more than ten years ( two terms ) of office as the president of the United
States.
1961: Chubby Checker started a three week run at No.1 on the US singles chart with 'Pony
Time', his second No.1 of the 60's. It reached No.27 in the UK.
1971: Five months after her death, Janis Joplin started a nine-week run at No.1 on the US
album chart with 'Pearl.'
1973: More than 200 members from the American Indian Movement moved in to take the
reservation area of Wounded Knee by force beginning an occupation that lasted until May.
1988: Figure skater Debi Thomas becomes the first African American to win a medal (bronze) at
the winter Olympic Games.
1991: James Brown was paroled after spending two years of a six-year prison sentence,
imposed for resisting arrest after a car chase across two States.
1993: After 14 weeks at No.1 on the US singles chart, 'I Will Always Love You', gave Whitney
Houston the longest ever US chart topper, taking over from Boyz II Men's hit 'End Of The Road',
and became the second biggest selling single in the US.
1997: New legislation banning most handguns in Britain went into effect helping to make the
strictest gun legislation in the world with self-defence not considered a valid reason to own a
gun.
2005: Ray Charles was at No.1 on the US album chart with 'Genius Loves Company.'
Born on this day in history:
1788: Prince Hall, Revolutionary War Veteran and founder of African Masonic Lodges, *may*
have been born on this date. Though his accomplishments are well celebrated, little is known of
Prince Hall's early life.
1807: Henry Wadsworth Longfellow, American poet (d. 1882)
1863: George Herbert Mead, American sociologist and philosopher (d. 1930)
1869: Alice Hamilton born: Hull House resident, occupational health researcher and writer, first
woman member of Harvard's faculty.
1886: Hugo Black, American jurist and politician (d. 1971)
1888: Arthur M. Schlesinger, Sr., American historian (d. 1965)
1902: On this day Marian Anderson, who will become a world-renowned opera singer and the
first African American soloist to perform at the White House, is born in Philadelphia, PA. (d.
1993)
1902: John Steinbeck, American author, Nobel Prize laureate (d. 1968)
1923: Dexter Gordon, American saxophonist, composer, and actor (d. 1990)
1930: Joanne Woodward, American actress.
1932: Elizabeth Taylor, English-American actress (d. 2011)
1934: Ralph Nader, American lawyer, author, and activist.
1942: Jimmy Burns, American singer-songwriter and guitarist.
1942: Journalist Charlayne Hunter was born this day in Due West, South Carolina. She was the
first black student at the University of Georgia, first black reporter at Louisville Times, first black
writer at New Yorker Magazine, and first black woman correspondent on a daily news program.
1945: Carl Anderson, American singer and actor (d. 2004)
1948: Born on this day, Eddie Gray from Tommy James and the Shondells who had the 1966
US No.1 single 'Hanky Panky' and the 1968 UK No.1 single 'Mony Mony'.
1959: Johnny Van Zant, American singer-songwriter (Lynyrd Skynyrd and Van Zant)
1961: James Worthy, American basketball player
1971: Born on this day, Rozonda Thomas, Chilli, singer from American girl group TLC who had
the 1995 US No.1 & UK No.4 single 'Waterfalls', and the 1999 US No.1 album 'Fanmail' which
spent 57 weeks on the UK chart.
1980: Chelsea Clinton, American journalist
On this day in history, we lost:
1964: Anna Julia Cooper, champion for the rights of black women, dies at the age of 105.
1968: Frankie Lymon, American singer-songwriter (The Teenagers) (b. 1942)
1985: Henry Cabot Lodge, Jr., American politician and diplomat, 3rd United States Ambassador
to the United Nations (b. 1902)
1998: George H. Hitchings, American scientist, Nobel Prize laureate (b. 1905)
2008: William F. Buckley, Jr., American author and journalist, founded the National Review (b.
1925)
2011: Frank Buckles, American soldier (b. 1901)
2013: Richard Street, American singer-songwriter (The Temptations and The Monitors) (b.
1942)
Sources: The People History; Wikipedia List of Historical Anniversaries; This Day in Women's History; This Day in African History;History.com; History Orb; Yenoba; Selected Black Facts; Phil Konstantin's North American Indian History; and This Day in Music