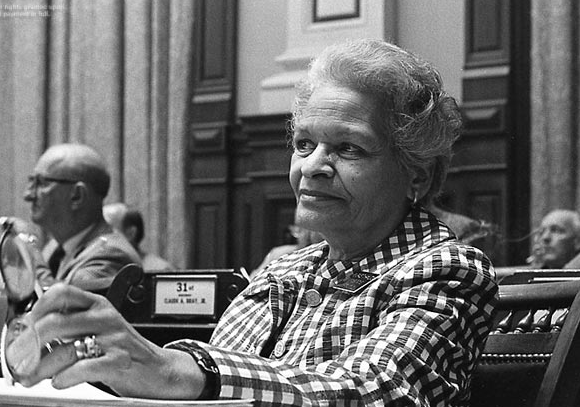 Podcast: Play in new window | Download
Subscribe: RSS
February 10, 2014 – Segment 1
Marc talks about some of what happened on this day in history, including the day Jefferson Davis was selected as provisional President of the Confederate States of the America, the day the Civil Rights Act of 1964 passed the U.S. House of Representatives, and the birthday of Civil rights activist and politician Grace Towns Hamilton.
DAY IN HISTORY
1763 – French and Indian War: The 1763 Treaty of Paris ends the war and France cedes Quebec to Great Britain.1846 – First Anglo-Sikh War: Battle of Sobraon – British defeat Sikhs in final battle of the war1861 – Jefferson Davis is notified by telegraph that he has been chosen as provisional President of the Confederate States of America.1870 – The YWCA is founded in New York City.1940 – The Soviet Union begins mass deportations of Polish citizens from occupied eastern Poland to Siberia. 1942 – The first gold record is presented to Glenn Miller for "Chattanooga Choo Choo".1954 – President Dwight Eisenhower warns against United States intervention in Vietnam.
1963 – Eleven members of the Carpenters' union in Reesor Siding, Northern Ontario are shot, three fatally, by independent local farmer-settlers who were supplying wood to a Spruce Falls Power and Paper Co. plant. Some 400 union members were attempting to block an outbound shipment from the plant. The action came as the company was insisting on a pay freeze and two months of seven-day-a-week work
1964 After 12 days of debate and voting on 125 amendments, the U.S. House of Representatives passed the Civil Rights Act of 1964 by a vote of 290-130. The bill prohibited any state or local government or public facility from denying access to anyone because of race or ethnic origin. It further gave the U.S. Attorney General the power to bring school desegregation law suits. The bill allowed the federal government the power to bring school desegregation law suits and to cut off federal funds to companies or states who discriminated. It forbade labor organizations or interstate commercial companies from discriminating against workers due to race or ethnic origins. Lastly, the federal government could compile records of denial of voting rights. After passage in the House, the bill went to the Senate, which after 83 days of debate passed a similar package on June 19 by a vote of 73 to 27. President Lyndon Johnson signed the legislation on July 2. Later, future Georgia governor Lester Maddox would become the first person prosecuted under the Civil Rights Act.
1967, The Beatles recorded the orchestral build-up for the middle and end of 'A Day in the Life'. At the Beatles' request, the orchestra members arrived in full evening dress along with novelty items. One violinist wore a red clown's nose, while another, a fake gorilla's paw on his bow hand. Others were wearing funny hats and other assorted novelties. The recording was filmed for a possible 'Sgt. Pepper's Lonely Hearts Club Band' television special which was ultimately abandoned. Mick Jagger, Keith Richards, Mike Nesmith from The Monkees and Donovan also attended the session.
1977, The Clash started recording their debut album at CBS studios in London, England.
1989 – Ron Brown is elected chairman of the Democratic National Committee becoming the first African American to lead a major American political party.
1996 – The IBM supercomputer Deep Blue defeats Garry Kasparov in chess for the first time.
1998 – Voters in Maine repeal a gay rights law passed in 1997 becoming the first U.S. state to abandon such a law.
BIRTHS
1898 – Bertolt Brecht, German author (d. 1956)
1905 – Chick Webb, American drummer and bandleader (d. 1939)
1906 – Lon Chaney, Jr., American actor (d. 1973)
1907 – Civil rights activist and politician Grace Towns Hamilton was born in Atlanta, Georgia. She received her undergraduate degree from hometown Atlanta University, before completing her master's degree at Ohio State Univesity. She held teaching positions at the Atlanta School of Social Work, Clark College, and LeMoyne College in Memphis, while maintaining an active interest in the civil rights movement. Hamilton served as executive director of the Atlanta Urban League from 1943-1960, and also sat on the board of the Southern Regional Council and the Governor's Commission on the Status of Women, as well as many other voluntary positions. But she made her most lasting mark by becoming the first African-American woman elected to the Georgia General Assembly in 1965. She served in Georgia House of Representatives until 1984. Today, a chair in the Emory University political science department is named in her honor.
1937 – Roberta Flack, American singer-songwriter and pianist
1950 – Mark Spitz, American swimmer
1961 – George Stephanopoulos, American journalist
1963 – Lenny Dykstra, American baseball player
1964 – Glenn Beck, American journalist, producer, and author
1967 – Laura Dern, American actress, director, and producer
DEATHS
1939 – Pope Pius XI (b. 1857)
1992 – Alex Haley, American author (b. 1921)
2002 – Dave Van Ronk, American singer-songwriter and guitarist (b. 1936)
2005 – Arthur Miller, American playwright (b. 1915)
2006, American record producer and MC James Dewitt Yancey, (A.K.A. J Dilla or Jay Dee), died of a rare blood disease, at his home in Los Angeles, California. Yancey had toured Europe in 2005 performing from a wheelchair.
Sources: The People History; Wikipedia List of Historical Anniversaries; This Day in Women's History; This Day in African History;History.com; History Orb; Yenoba; Selected Black Facts; Phil Konstantin's North American Indian History; and This Day in Music