Podcast: Play in new window | Download
Subscribe: RSS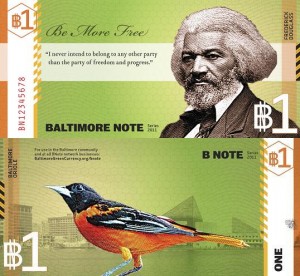 In today's increasingly globalized economy, money that you spend here in Baltimore can be halfway across the world in the blink of an eye.  Today we'll check in with the founders of the BNote, a currency just for local Baltimore businesses, more than six months after the notes went into circulation.
We're joined today by Jeff Dicken, Executive Director of the Baltimore Green Currency Association and Jerry Raitzyk, who works with the Green Currency Association.
You can read about the Bnote in Martha Thomas's article "The Buck Stops Here" in this month's issue of Urbanite Magazine.