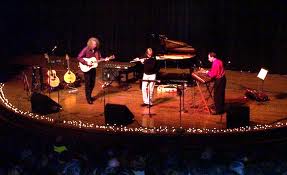 Helicon join us for an hour of live music in the studio.
The members of Helicon are:
Ken Kolodner played hammered dulcimer, hammered mbira, and fiddle on the show today. Ken is a world renowned hammered dulcimer player who resides here in Baltimore, MD. In addition to playing and recording music, Ken teaches hammered dulcimer and fiddle to around 70 students.
Robin Bullock, who played cittern and guitar on today's program, currently resides in France. Robin writes and performs music from Celtic and American traditions, and plays and records in the US and Europe extensively.
Chris Norman played wooden flutes on the show today. Chris tours both solo and with the Chris Norman ensemble. He's the founder of the Boxwood Festivals and Workshops, and now lives in Novia Scotia.
To hear the audio, click here.