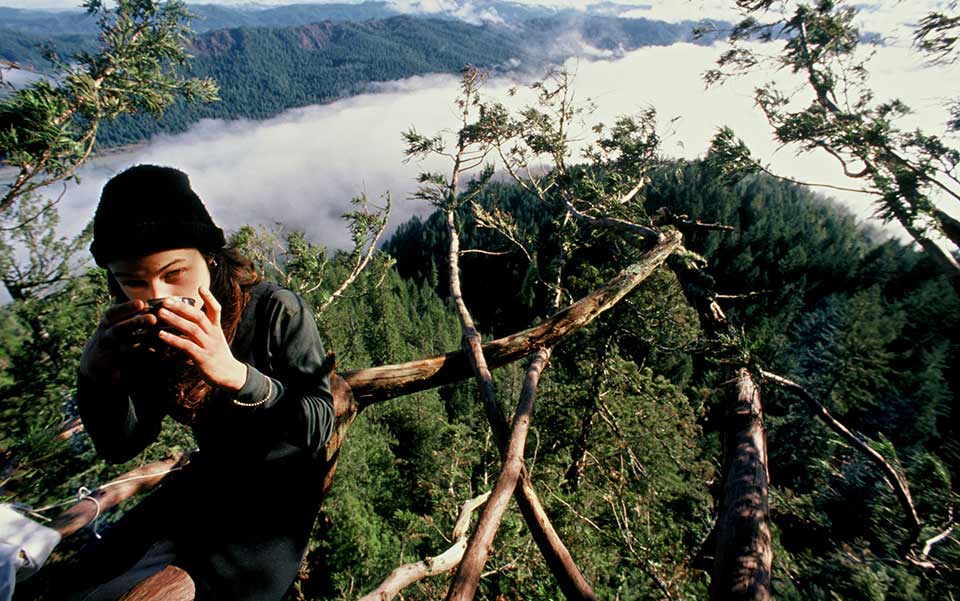 Podcast: Play in new window | Download
Subscribe: RSS
December 18, 2014 – Segment 1
Marc talks about what happened on this day in history, including the birthday of actor and activist Ossie Davis, the day environmental activist Julia "Butterfly" Hill came down from the ancient Redwood tree she staged a two-year protest in, and the start of the Arab Spring Uprisings.
Transcript of this day in history included below.
This is Marc Steiner, and today is December the 18th.
(Mookie walks down the block with pizza box in hand when he sees Da Mayor sitting on his stoop.)

DA MAYOR: Mookie.
MOOKIE: Gotta go.
DA MAYOR: C'mere, Doctor.

(Mookie turns around and goes back.)

DA MAYOR: Doctor, this is Da Mayor talkin'.
MOOKIE: OK. OK.
DA MAYOR: Doctor, always try to do the right thing.
MOOKIE: That's it?
DA MAYOR: That's it.
MOOKIE: I got it.
That's a scene from Do The Right Thing between Mookie and Da Mayor. Da Mayor was played by actor, director, playwright and social activist Raiford Chatman "Ossie" Davis and it's his birthday. He was born in Cogdell, Georgia and began acting in 1939 with the Rose McClendon Players in Harlem. He made his film debut in"No Way Out" and went on to appear in almost 50 movies over 55 years: "Jungle Fever," "Malcolm X," and "She Hate Me" to name a few. He and his wife Ruby Dee were deeply involved in the Civil Rights Movement and played instrumental roles in organizing the March on Washington for Jobs and Freedom. He delivered the eulogy at Malcolm X's funeral and made a tribute to Martin Luther King at his memorial. We lost the legendary Ossie Davis in 2005, but today we celebrate his Birth.
And it's the birthday of Stephen Bantu Biko, born in 1946. The great anti-apartheid activist was a pioneer of the Black Consciousness Movement in South Africa influencing the world. He coined the phrase "Black is Beautiful". He was a political prisoner, who was tortured ,died in police custody, he was a martyr and symbol of the anti-apartheid movement. Nelson Mandela said: "They had to kill him to prolong the life of apartheid."
Biko's Black Consciousness Movement sought to mobilize and empower South Africa's urban black population. Similarly, we commemorate the start of another uprising in a different part of the world on this day: the Arab Spring Uprising. In 2010, protests against the government began in Tunisia setting off a string of protests throughout the region, in Egypt, Libya, Yemen, Bahrain, Syria, Algeria, Iraq, Jordan, Kuwait, Morocco, Israel, Sudan and beyond. In many cases, protests were met with violent suppression, Tunisia now has democracy, Egypt a worse dictatorship, the struggle continues.
And in the United States in 1865, the Thirteenth Amendment was ratified, abolishing slavery. It reads:
"Neither slavery nor involuntary servitude, except as a punishment for crime whereof the party shall have been duly convicted, shall exist within the United States, or any place subject to their jurisdiction."
After living atop an ancient Redwood tree in Humboldt County, California for 2 years, environmental activist Julia "Butterfly" Hill came down, ending her anti-logging protest in 1999. She called the tree Luna and lived in it to stop Pacific Lumber Company loggers from chopping it down. She endured freezing rains, 40 mph winds from El Niño, and intimidation from loggers upset at her protest. Ultimately, a resolution was reached with the Pacific Lumber Company, who vowed to protect Luna and all trees within a 200-foot buffer zone. Tragically … vandals cut the tree with a chainsaw around its base. But Julia Butterfly Hill's supporters treated the gash with an herbal remedy and stabilized the tree with steel cables. Luna still stands today and is doing well, with new growth each year.
Here's a song for you to think about on this December the 18th. You have heard excerpts of this two-act ballet all throughout popular culture. It's in our television programs, movies, commercials, it's in the fabric of Christmas celebrations around the world. . Can you name this great piece of music?
It's The Nutcracker by Pyotr Ilyich Tchaikovsky. It premiered today in 1892. Funnily enough, the original production was not well received,, but in th 1960s it exploded into our lives. . Here's "Dance of the Sugar Plum Fairy" from Tchaikovsky's "The Nutcracker."
This Day In History is produced by the Center for Emerging Media at WEAA 88.9FM in Baltimore, Maryland with Producers Stefanie Mavronis and Mark Gunnery and Research Producer Cianna Greaves.
To continue your exploration of This Day In History, visit steinershow.org for resources. I'm Marc Steiner. Thanks for listening.
To continue your exploration of this day in history, take a look at some of our favorite sources: Charles H. Wright Museum: Today in Black History; African American Registry; BlackPast; NYTimes on this Day; EyewitnessToHistory.com; The Civil War Trust; Voices in Labor: Today in Labor History; Union Communication Services at The Worker Institute: Today in Labor History; BBC On This Day; The Holocaust History Project; PBS African American World; PBS; Today in Women's History; South African History Online; This Day In North American Indian History; Jewish Virtual Library; The People History; Wikipedia List of Historical Anniversaries; Yenoba; and This Day in Music