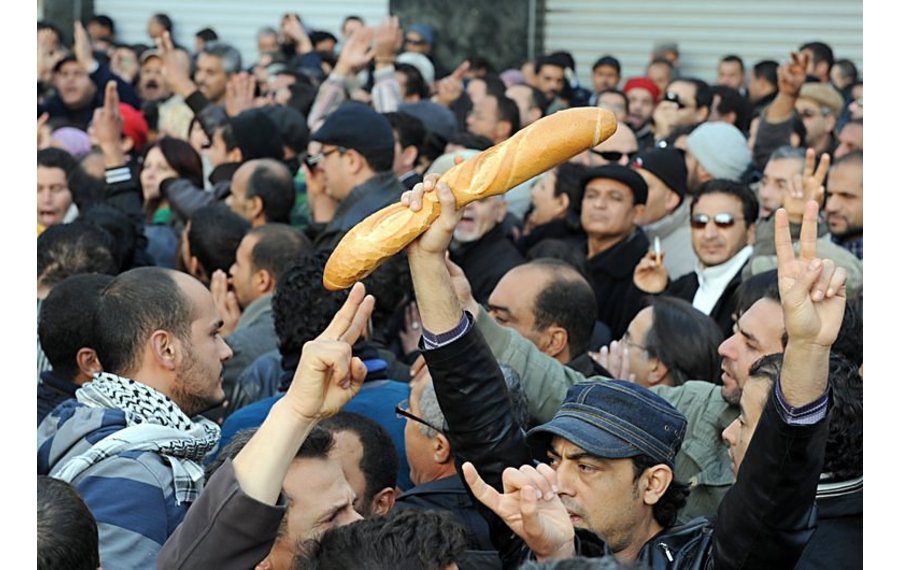 Podcast: Play in new window | Download
Subscribe: RSS
December 18, 2013 – Segment 1
Marc shares some of what happened on this day in history, including the premiere performance of The Nutcracker by Pyotr Ilyich Tchaikovsky in Saint Petersburg, Russia, anti-government protests starting in Tunisia, heralding the Arab Spring, and the death of  Václav Havel, Czech politician and poet.
Events
1777 – The United States celebrates its first Thanksgiving, marking the recent victory by the Americans over British General John Burgoyne in the Battle of Saratoga in October.1878 – John Kehoe, the last of the Molly Maguires is executed in Pennsylvania.1892 – Premiere performance of The Nutcracker by Pyotr Ilyich Tchaikovsky in Saint Petersburg, Russia.
1917 – The resolution containing the language of the Eighteenth Amendment to enact Prohibition is passed by the United States Congress.
1932 – The Chicago Bears defeat the Portsmouth Spartans 9-0 in the first ever NFL Championship Game. Because of a blizzard, the game is moved from Wrigley Field to the Chicago Stadium, the field measuring 80 yards (73 m) long.
1961, The Tokens started a three week run at No.1 on the US singles chart with 'The Lion Sleeps Tonight'; it reached No.11 in the UK. REM included a live version of the song on the 1993 'Sidewinder Sleeps Tonight' single.
1971 – People United To Save Humanity (PUSH) founded at Chicago meeting by Rev Jesse Jackson.
1971, Sly and the Family Stone went to No.1 on the US album chart with 'There's A Riot Going On'.
1972 – Vietnam War: President Richard Nixon announces that the United States will engage North Vietnam in Operation Linebacker II, a series of Christmas bombings, after peace talks collapsed with North Vietnam on the 13th.
1991 – General Motors announces it is closing 21 North American plants over the following four years and slashing tens of thousands of jobs
1996 – Oakland, California- School board becomes the 1st in the nation to recognize black english aka Ebonics as a sepearate language, NOT a dialect or slang.
2000, *NSYNC fan Danielle McGuire filed suit against group member Justin Timberlake, alleging that he harassed and verbally assaulted her. McGuire, 15, filed suit in St. Louis, Missouri, charging Timberlake with false imprisonment of a minor.
2002 – California recall: Then Governor of California Gray Davis announces that the state would face a record budget deficit of $35 billion, roughly double the figure reported during his reelection campaign one month earlier.
2005 – The civil war in Chad begins when rebel groups, allegedly backed by neighbouring Sudan, launch an attack in Adré.
2006 – The first of a series of floods strikes Malaysia. The death toll of all flooding is at least 118, with over 400,000 people displaced.
2006 – United Arab Emirates holds its first-ever elections.
2010 – Anti-government protests begin in Tunisia, heralding the Arab Spring.
Births
1814: Josephine White Griffing born (reformer: women's rights, anti-slavery, freedman's relief)
1878 – Joseph Stalin, Soviet marshal and politician, 4th Premier of the Soviet Union (d. 1953)
1879 – Paul Klee, Swiss-German painter (d. 1940)
1886 – Ty Cobb, American baseball player (d. 1961)
1917 – Ossie Davis, American actor and activist (d. 2005)
1927 – Ramsey Clark, American lawyer, 66th United States Attorney General
1939 – Michael Moorcock, English author
1941 – Wadada Leo Smith, American trumpet player and composer (Creative Construction Company)
1943 – Keith Richards, English singer-songwriter, guitarist, producer, and actor (The Rolling Stones, The Dirty Mac, and The New Barbarians)
1946 – Steve Biko, South African activist, founded the Black Consciousness Movement (d. 1977)
1946 – Steven Spielberg, American director
1950 – Leonard Maltin, American critic and author
1963 – Brad Pitt, American actor and producer
1970 – DMX, American rapper and actor
Deaths
1983, American guitarist Jimmy Nolan, died of a heart attack in Atlanta, Georgia, aged 47. Known for his distinctive 'chicken scratch' lead guitar playing, he worked with James Brown from 1965 until his death.
2000 – Randolph Apperson Hearst, American businessman (b. 1915)
2000, UK singer, songwriter Kirsty MacColl was killed in a boating accident off the coast of Mexico when a speedboat hit her. MacColl was aged 41. McColl and her sons were diving at the Chankanaab reef, of Cozumel, Mexico in a designated diving area that watercraft were restricted from entering. MacColl saw the boat coming before her sons did; Louis (then 13) was not in the boat's path, but Jamie (then 15) was. She was able to push him out of the way (he sustained minor head and rib injuries) but in doing so, she was hit by the boat and killed instantly.
2007 – William Strauss, American author and playwright (b. 1947)
2011 – Václav Havel, Czech politician, 1st President of the Czech Republic (b. 1936)
2013 – Ronnie Biggs, English criminal (b. 1929) Ronald Arthur "Ronnie" Biggs (8 August 1929 – 18 December 2013) was an English criminal, known for his role in the Great Train Robbery of 1963, for his escape from prison in 1965, for living as a fugitive for 36 years and for his various publicity stunts while in exile. In 2001, he voluntarily returned to the United Kingdom and spent several years in prison, where his health rapidly declined. On 6 August 2009, Biggs was released from prison on compassionate grounds.
Sources: The People History; Wikipedia List of Historical Anniversaries; This Day in Women's History; This Day in Jewish History; This Day in African History;History.com; History Orb; Yenoba; Phil Konstantin's North American Indian History; and This Day in Music