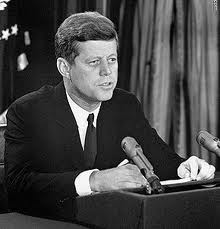 Podcast: Play in new window | Download
Subscribe: RSS
November 20, 2013 – Segment 1
Marc shares some of what happened on this day in history, including the day New Jersey became the first U.S. state to ratify the Bill of Rights, the day President Kennedy issued an executive order barring racial discrimination in federally financed housing, and the day Microsoft Windows 1.0 was released.
Events
1789 – New Jersey becomes the first U.S. state to ratify the Bill of Rights.
1820 – An 80-ton sperm whale attacks the Essex (a whaling ship from Nantucket, Massachusetts) 2,000 miles from the western coast of South America (Herman Melville's 1851 novel Moby-Dick is in part inspired by this story).
1861 – American Civil War: Secession ordinance is filed by Kentucky's Confederate government.
1865 – Blacks held protest convention in Zion Church in Charleston and demanded equal rights and repeal of the Black Codes.
1901- Mine fire in Telluride, Colo., kills 28 miners, prompts union call for safer work conditions
1910 – Mexican Revolution: Francisco I. Madero issues the Plan de San Luis Potosi, denouncing Mexican President Porfirio Díaz, calling for a revolution to overthrow the government of Mexico, effectively starting the Mexican Revolution.
1917 – Ukraine is declared a republic.
1945 – Nuremberg Trials: Trials against 24 Nazi war criminals start at the Palace of Justice at Nuremberg.
1962 – Cuban missile crisis ends: In response to the Soviet Union agreeing to remove its missiles from Cuba, U.S. President John F. Kennedy ends the quarantine of the Caribbean nation.
1962 – President Kennedy issued executive order barring racial discrimination in federally financed housing.
1969 – Vietnam War: The Plain Dealer publishes explicit photographs of dead villagers from the My Lai massacre in Vietnam.
1969 – Occupation of Alcatraz: Native American activists seize control of Alcatraz Island until being ousted by the U.S. Government on June 11, 1971.
1974 – The United States Department of Justice files its final anti-trust suit against AT&T Corporation. This suit later leads to the breakup of AT&T and its Bell System.
1977 – Egyptian President Anwar Sadat becomes the first Arab leader to officially visit Israel, when he meets Israeli prime minister Menachem Begin and speaks before the Knesset in Jerusalem, seeking a permanent peace settlement.
1979 – Grand Mosque Seizure: About 200 Sunni Muslims revolt in Saudi Arabia at the site of the Kaaba in Mecca during the pilgrimage and take about 6000 hostages. The Saudi government receives help from Pakistani special forces to put down the uprising.
1985 – Microsoft Windows 1.0 is released.
1989 – Velvet Revolution: The number of protesters assembled in Prague, Czechoslovakia swells from 200,000 the day before to an estimated half-million.
2001 – In Washington, D.C., U.S. President George W. Bush dedicates the United States Department of Justice headquarters building as the Robert F. Kennedy Justice Building, honoring the late Robert F. Kennedy on what would have been his 76th birthday.
2003 – After the November 15 bombings, a second day of the 2003 Istanbul Bombings occurs in Istanbul, Turkey, destroying the Turkish head office of HSBC Bank AS and the British consulate.
2008 – After critical failures in the US financial system began to build up after mid-September, the Dow Jones Industrial Average reaches its lowest level since 1997.
Birthdays
1889 – Edwin Hubble, American astronomer (d. 1953)
1892 – James Collip, Canadian biochemist, co-discoverer of insulin (d. 1965)
1908 – Alistair Cooke, English-American journalist (d. 2004) 1923 – Nadine Gordimer, South African author and activist, Nobel Prize laureate
1925 – Robert F. Kennedy, American politician, 64th United States Attorney General (d. 1968)
1936 – Don DeLillo, American author
1939 – Dick Smothers, American actor and singer (Smothers Brothers)
1942 – Joe Biden, American politician, 47th Vice President of the United States
1942 – Meredith Monk, American composer and choreographer
1946 – Duane Allman, American singer-songwriter and guitarist (The Allman Brothers Band, Hour Glass, Derek and the Dominos, and The Allman Joys) (d. 1971)
1956 – Bo Derek, American actress and producer
1965 – Mike D, American rapper and drummer (Beastie Boys and The Latch Brothers)
1970 – Phife Dawg, American rapper (A Tribe Called Quest)
1976 – Dominique Dawes – Three-time Olympic gymnast Dominique Dawes is born in Silver Spring, Maryland. She will win an Olympic gold medal and two bronze medal. She will also win more national titles than any other gymnast-male or female.
Deaths
1910 – Leo Tolstoy, Russian author (b. 1828)
1936 – Buenaventura Durruti, Spanish anarchist and activist (b. 1896)
1973 – Allan Sherman, American actor, singer, and producer (b. 1924)
2005 – Manouchehr Atashi, Iranian poet (b. 1931)
Sources: The People History; Wikipedia List of Historical Anniversaries; This Day in Women's History; This Day in Jewish History; This Day in African History;History.com; History Orb; Yenoba; Phil Konstantin's North American Indian History; and This Day in Music