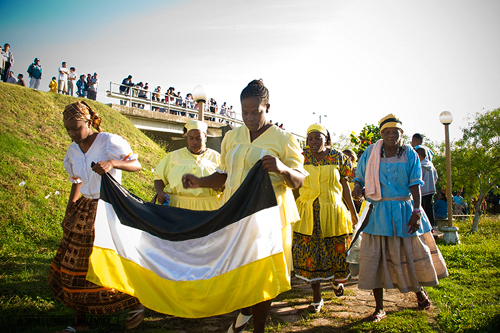 Podcast: Play in new window | Download
Subscribe: RSS
November 19, 2013 – Segment 1
Marc shares some of what happened on this day in history, including Puerto Rico's "Day of Discovery," Mali's Liberation Day, and Garifuna Settlement Day in Belize, celebrating the settlement of the Garifuna people in Belize after being exiled from the Grenadines by the British army.
Holidays
Discovery of Puerto Rico (Puerto Rico) – Christopher Columbus (Don Cristóbal Colón) landed on the northwest coast of Puerto Rico near Aguada on his second voyage to the New World in 1493
Flag Day (Brazil)
Garifuna Settlement Day (Belize) – The holiday was created by Belizean civil rights activist, Thomas Vincent Ramos, in 1941. It was recognized as a public holiday in the southern districts of Belize in 1943, and declared a national holiday in 1977. The holiday celebrates the settlement of the Garifuna people in Belize after being exiled from the Grenadines by the British army. The major festivities for the holiday occur in the town of Dangriga, including parades, street music, and traditional dancing.
International Men's Day (Australia, Canada, Ghana, Hungary, India, Ireland, Jamaica, Malta, Singapore, South Africa, Trinidad and Tobago, United Kingdom, United States)
Liberation Day (Mali) – 1968 – End of Modibo Keïta's regime
Monaco National Day (Monaco) – the levée of Prince Albert II 2005
Events
1095 – The Council of Clermont, called by Pope Urban II to discuss sending the First Crusade to the Holy Land, begins.
1493 – Christopher Columbus goes ashore on an island he first saw the day before. He names it San Juan Bautista (later renamed Puerto Rico).
1794: According to the Jay Treaty and Northwest Territory Treaty, Indians can cross borders.
1870: On the Wichita River in Texas, Private James Anderson, Company M, Sixth Cavalry, will "earn" a Congressional Medal of Honor for his actions in the pursuit and subsequent fight with a group of "hostile Indians," according to army records.
1931: The United States and other countries involved with the League of Nations decided to aid China in the fight to force Japan to withdraw from Manchuria. Reports had indicated that Japan was in violation of certain treaty agreements that had been made-one of which was Japanese troops were illegally stations in strategic locations.
1942 : Russian General Georgi Zhukov launches Operation Uranus, the Soviet counteroffensive that turned the tide in the Battle of Stalingrad.
1954 – The nation's first automatic toll collection machine is used at the Union Toll Plaza on New Jersey's Garden State Parkway
1955: In Morocco, Political violence took place in the palace courtyard. The Sultan Sidi Mohammed Ben Youssel was inside in the palace while blood-shed took place. People had shown up at the Sultan's palace to give honor to the monarch, which had recently returned. One of the most prominent of those died was Khalifi Berdadi. One other had died as well, and five were wounded-two of which were not expected to live.
1955, Carl Perkins recorded 'Blue Suede Shoes' at Sun Studios in Memphis.
1963: The 100 year celebration of the famous Gettysburg Address delivered by President Lincoln's given during the consecration of the Soldiers' National Cemetery at the site of the Battle of Gettysburg.
1964, The Supremes became the first all girl group to have a UK No.1 single when 'Baby Love' went to the top of the charts. Written and produced by Motown's main production team Holland–Dozier–Holland, it was also the second of five Supremes songs in a row to go to No.1 in the United States.
1967 : The Beatles release "Magical Mystery Tour"
1967: The Prime Minister, Harold Wilson, defends his decision to devalue the pound by lowering the exchange rate from for the Pound from $2.80 to $2.40 and has told the British people that it does not mean that the pound here in Britain, in your pocket or purse or in your bank, has been devalued, but allows us to sell our goods abroad on a more competitive basis.
1968 – President Modibo Keita of Mali is deposed by the army in a bloodless coup.
1969: The astronauts Charles "Pete" Conrad and Alan Bean of Apollo 12 land on the Moon in the area known as the Ocean of Storms with their lunar lander, Intrepid, and become the second set of American astronauts to walk on the moons surface.
1973: Senator Thomas J. McIntyre charged the major American oil companies of incompetence and selfishness. McIntyre alleged that they did not prepare for the upcoming energy crisis, and as a result have betrayed the American people.
1975 – After a seven-year exile, Eldridge Cleaver, returned to California, on this date in 1975, to face charges of attempted murder following a 1968 shootout with Oakland police.  Cleaver now believed that the country had changed and he could get a fair trial.
1977: Egyptian President Anwar Sadat became the first Arab leader to set foot in Israel and received a hero's welcome in Jerusalem but condemnation from the rest of the Arab world.
1979 : Iranian leader Ayatollah Ruhollah Khomeini orders the release of 13 female and black American hostages quoting these hostages are being released because they are "oppressed minorities" and because of "the special place of women in Islam,".
1979, Chuck Berry was released from prison after serving a four-month sentence for tax evasion.
1981 – The National Writers Union is founded, representing freelance and contract writers and others in the trade. In 1992 it was to merge into and become a local of the United Auto Workers
1984 – San Juanico Disaster: A series of explosions at the PEMEX petroleum storage facility at San Juan Ixhuatepec in Mexico City starts a major fire and kills about 500 people.
1985: President Reagan and Soviet Leader Gorbachev meet for the first time and had scheduled a 15-minute private meeting. It had gone on for longer than expected-one hour.
1985: A total of 34 women presented Soviet Leader Mikhail Gorbachev with a letter regarding nuclear disarmament. They were pushing for a ban on nuclear weapons tests.
1990 – Pop group Milli Vanilli are stripped of their Grammy Award because the duo did not sing at all on the Girl You Know It's True album. Session musicians had provided all the vocals.
1996 – Lt. Gen. Maurice Baril of Canada arrives in Africa to lead a multi-national policing force in Zaire.
1998 – Vincent van Gogh's Portrait of the Artist Without Beard sells at auction for US$71.5 million.
1998 – Lewinsky scandal: The United States House of Representatives Judiciary Committee begins impeachment hearings against U.S. President Bill Clinton.
2006: The Israelis will not be running a planned air attack on a house in the Jabaliya refugee camp in Gaza, which has hundreds of Palestinians forming a human shield aroud it. A spokesman, Mohammedweil Baroud, said that he was warned to leave his home by the Israelis, but that he instead ran to a mosque and summoned his neighbours to help defend the house. Baroud is a commander in the Popular Resistance Committees militant group.
2011 : Saif al-Islam, the deposed leader of Libya's (Colonel Gaddafi) son, was captured by militants in Obari according to Libyan officials. Saif al-Islam is the last influential member of Gaddafi's family to be captured or killed since fighting broke out between anti-Gaddafi forces and his supporters. The new prime minister of Libya stated that Saif al-Islam will face a fair trial in the country, he was also wanted for crimes against humanity by the International Criminal Court.
2012 : Ban Ki-moon, the UN's Secretary General, has called for an immediate ceasefire after Israel's bombardment of Gaza entered its sixth day, while Israeli Prime Minister Netanyahu stated that he wanted expand the military operation.
Birthdays
1831 – James Garfield – The 20th U.S. President, whose presidency lasted only 200 days, ending with his assassination by Charles J. Guiteau.
1875 – HIRAM BINGHAM (1875-1956) A famed archaeologist who began the exploration of Machu Picchu.
1897 – BUD GREEN (1897-1981) Known for "I'll Always Be In Love With You" and "Alabamy Bound," which was covered by Dean Martin, Ray Charles, and many others.
1905 – TOMMY DORSEY (1905-1956) Big bandleader during the Swing Era who earned the moniker, "The Sentimental Gentleman of Swing"; his brother was Jimmy Dorsey.
1917: Indira Gandhi born (politician, prime minister of India)
1919 – ALAN YOUNG 94 – Played the role of Wilbur Post in the series, Mr. Ed and was also the voice of Scrooge McDuck in the Disney series of cartoons and video games.
1921 – Roy Campenella, legendary Brooklyn Dodgers catcher and three-time National League MVP, was born in Philadelphia, PA
1933 – Larry King – Well-known TV and radio interviewer, author, and columnist.
1934, Born on this day, Dave Guard of The Kingston Trio
1936 – DICK CAVETT – A talk show host who set an intellectual tone with celebrity guests like Marlon Brando and Jerzy Kosinski.
1937, Born on this day, Ray Collins, vocals, Frank Zappa band
1938, Born on this day, Hank Medress, The Tokens ("The Lion Sleeps Tonight")
1938 – TED TURNER – Media mogul who founded CNN and Turner Broadcasting; pioneered the idea of a superstation on cable television.
1939, Born on this day, Pete Moore, The Miracles
1941 – DAN HAGGERTY – Actor nicknamed Grizzly Adams due to the role he played in The Life and Times of Grizzly Adams.
1954 – Abdel Fattah Saeed Hussein Khalil el-Sisi – an Egyptian General who has been Commander-in-Chief of the Egyptian Armed Forces, as well as Minister of Defence, since 12 August 2012.
1962 – Jodi Foster, actress
1969 – ERIKA ALEXANDER – Played the role of cousin, Pam Tucker on the television series, The Cosby Show with Bill Cosby.
Deaths
1703 – Man in the Iron Mask, French prisoner
1915 – Joe Hill, labor leader and songwriter, executed in Utah on what many believe was a framed charge of murder. Before he died he declared: "Don't waste any time mourning. Organize."
1924 – The Governor General of Sudan, Sir Lee Stack, is killed in Cairo.
1985 – Lincoln Theodore Andrew Perry, veteran Black actor who played "Stepin' Fetchit," died in Woodland Hills, CA
2011 – Ruth Stone, American poet and author (b. 1915)
 Sources: The People History; Wikipedia List of Historical Anniversaries; This Day in Women's History; This Day in Jewish History; This Day in African History;History.com; History Orb; Yenoba; Phil Konstantin's North American Indian History; and This Day in Music