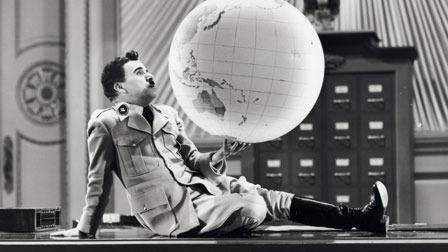 Podcast: Play in new window | Download
Subscribe: RSS
November 15, 2013 – Segment 1
Marc shares some of what happened on this day in history, including the founding convention of the Federation of Trades and Labor Unions in Pittsburgh, the day Charlie Chaplin's satirical comedy The Great Dictator opened, and the day the Amistad Research Center was incorporated as a research library.
Events
1824: The Quapaw sign a treaty (7 stat. 23) and give up their claim to land between the Arkansas Post and Little Rock, extending inland to the Saline River. They agree to live in land promised to the Caddo Indians. The treaty is signed at Harrisons, in Arkansas territory.
1861: The Potawatomi sign a treaty. (12 stat.1191). The treaty sets aside some lands for common tribal usage and other lands are set aside for individual Indians.
1881 – Founding convention of the Federation of Trades and Labor Unions is held in Pittsburgh. It urges enactment of employer liability, compulsory education, uniform apprenticeship and child and convict labor laws. Five years later it changes its name to the American Federation of Labor
1887 – Granville T. Woods, inventor, patented the Synchronous Multiplier Railway Telegraph on this date
1894 – Dr. Daniel Hale Williams founded Freedmen's Hospital School of Nursing on this date in 1894.  The school was transferred to Howard University in 1969 and had graduated 1,700 nurses when it closed in 1973.
1898 – L. D. Newman, inventor, patented the Synthetic Brush containing synthetic bristles on this date
1905 – An assassination attempt on Belgium King Leopold II by Gennaro Rubin is foiled.
1935 : Emperor Haile Selassie has called for the greatest army ever assembled in Ethiopia to wage a holy war and recapture the sacred city of Aksum back from the Italians. He has now based his headquarters in Addis Ababa. The Italians are armed with machine guns, field guns and artillery while the tribesman of Ethiopia are fighting with guns and the advantage of numbers. Casualties have been high and have already reached 20,000 with many Ethiopian fighters killed by bombardments from Italian aircraft. But 100's of thousands are coming from all over Ethiopia after the call from their Emperor.
1940 : Charlie Chaplin's satirical comedy The Great Dictator opens
1942 – Allied victory declared at El Alamein.
1945 : Following the end of World War and freedom for the French people they execute Pierre Laval the Vichy puppet leader put in place by Germany during occupation for Treason.
1950 – Arthur Dorrington became the first Black to play organized hockey in the United States when he signed with the Atlantic City Seagulls
1965 : Demonstrations organized by the student-run National Coordinating Committee to End the War in Vietnam attracted 100,000 people in 40 cities across the country. In New York City, David Miller, becomes the first U.S. war protestor to burn his draft card in direct violation of a recently passed law . he was found guilty and sentenced to two years imprisonment.
1969 – The Amistad Research Center, a manuscripts library for the study of ethnic history, culture, and race relations in the United States, was officially incorporated as a research library on this date in 1969. The Center is located at Tulane University in New Orleans, LA.
1977: Britain's Princess Anne gives birth to a son — significant for the child's status as a commoner, breaking a 500-plus year tradition
1979 – Mt. Sinai and the surrounding territory is restored to Egyptian control by Israel.
1987 : Fiji becomes a republic ending the islands' 113 year British Crown sovereignty .
1990 : Soviet leader Mikhail Gorbachev wins the Nobel Peace Prize for his work in helping to end the bitter Cold War between the Soviet Union and Western Powers that had been in place for nearly 50 years. Due to the tensions easing many important changes occurred including the 2 major superpowers agreeing to limit Nuclear proliferation making the world a safer place.
1993 : Nelson Mandela and F.W. de Klerk win the Nobel Peace Prize for their efforts to end apartheid in South Africa
2005 : Iraqis voted in a referendum to approve the constitution of Iraq to replace the Law of Administration for the State of Iraq for the Transitional Period .
2005 : A riot in Toledo sparked by a planned rally by The National Socialist Movement (NSM), a Neo-Nazi organization, who planned a march to protest over alleged black gang activity in the North End of Toledo, Ohio. The rally was cancelled after Anti Racist Action groups from other cities, and various street gangs from the north end created a massive protest which turned into a full scale riot when the protesters realised the (NSM) rally was cancelled and turned on Police, media vehicles and emergency vehicles which then caused a citywide curfew to be implemented for the remainder of the weekend.
Birthdays
1824: Ellen Louise Curtis Demorest born (businesswoman)
1861: Margaret Haley born (educator, teacher, union organizer)
1873: Sara Josephine Baker born (physician, public health administrator)
1887: Marianne Moore born (poet)
1887: Georgia O'Keeffe born (painter)
1929 ED ASNER — He played Lou Grant on The Mary Tyler Moore Show, and gained prominence as a political activist.
1932: Nera White born (basketball player)
1932 – Clyde L McPhatter, Durham NC, singer (Drifters-Treasure My Love)
1937 – William E "Little Willie" John, [Woods], US R&B singer (Fever)
1937 – Jimmy Ellis, RockHill, South Carolina, soul singer (The Trammps – Disco Inferno), (d. 2012)
1939 YAPHET KOTTO — African American actor who was nominated for a Best Supporting Actor Primetime Emmy Award for his role Raid on Entebbe.
1951 EHSAN SEHGAL – Pakistani poet, author, journalist and activist known for his Urdu poetry collection, "Zarb-e-Sukhan."
Deaths
1897 – John Mercer Langston, Virginia's first Black Congressman, died on this date
1908: Cixi (T'su-hsi) died (Dowager Empress of China)
1917: The exotic dancer Mata Hari is executed by a French firing squad at Vincennes, outside of Paris, for espionage.
 Sources: The People History; Wikipedia List of Historical Anniversaries; This Day in Women's History; This Day in Jewish History; This Day in African History;History.com; History Orb; Yenoba; Phil Konstantin's North American Indian History; and This Day in Music