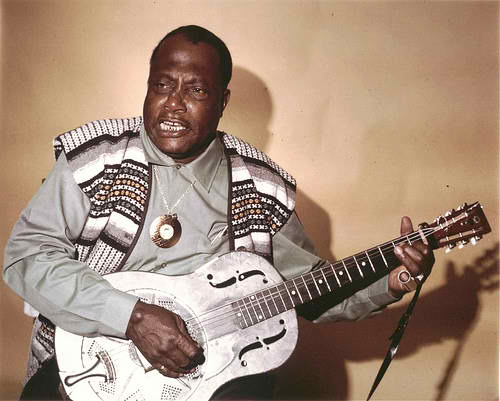 Podcast: Play in new window | Download
Subscribe: RSS
November 12, 2013 – Segment 1
Marc shares some of what happened on this day in history, including the birthday of Bukka White, the day the treaty of the Durand Line was signed between present day Pakistan and Afghanistan, and the day Ellis Island in New York closed.
Events
1555 – The English Parliament re-establishes Catholicism.
1602 – Sebastian Viscaino lands at and names San Diego, California.
1764: Colonel Henry Bouquet calls upon the Shawnee, at his camp on the Muskingum River, to deliver all of their remaining prisoners. He asks the Shawnees to treat them gently.
1775 – Upon hearing of England's rejection of the so-called Olive Branch Petition on this day in 1775, Abigail Adams writes to her husband, "Let us separate, they are unworthy to be our Brethren. Let us renounce them and instead of supplications as formerly for their prosperity and happiness, Let us beseech the almighty to blast their councils and bring to Nought all their devices."
1793 – Jean Sylvain Bailly, the first Mayor of Paris, is guillotined.
1799: First meteor shower on record – Andrew Ellicott Douglass, an early American astronomer born in Vermont, witnesses the Leonids meteor shower from a ship off the Florida Keys. Douglass, who later became an assistant to the famous astronomer Percival Lowell, wrote in his journal that the "whole heaven appeared as if illuminated with sky rockets, flying in an infinity of directions, and I was in constant expectation of some of them falling on the vessel. They continued until put out by the light of the sun after day break." Douglass' journal entry is the first known record of a meteor shower in North America.
1864, Union General William T. Sherman orders the business district of Atlanta, Georgia, destroyed before he embarks on his famous March to the Sea.
1867 – After more than a decade of ineffective military campaigns and infamous atrocities, a conference begins at Fort Laramie to discuss alternative solutions to the "Indian problem" and to initiate peace negotiations with the Sioux.
1892, William "Pudge" Heffelfinger becomes the first professional football player when Pittsburgh's Allegheny Athletic Association pays him $500 to play as a ringer in a game against its rival Pittsburgh Athletic Club. Before Heffelfinger, players had traded their services on the field for expense money, "double expenses," or trinkets that players could pawn back to the team–but no one had ever openly accepted a cash payment to play football. (Baseball, on the other hand, had been frankly professional for almost 25 years.) For his part, Heffelfinger never acknowledged that he'd taken the payment. He went on to become a prominent insurance executive and congressman from Minnesota.
1893 – The treaty of the Durand Line is signed between present day Pakistan and Afghanistan; the Durand Line has gained international recognition as an international border between the two nations.
1904 – General Adolf von Trotha replaces Theodor Leutwein as governor of German South West Africa.
1905 – Norway holds a referendum in favor of monarchy over republic.
1911 – Combined Turkish and Arab forces in Libya are badly mauled by the Italian Army.
1922 – The Sigma Gamma Rho Sorority was founded in Indianapolis, IN, on this date
1927 – Leon Trotsky is expelled from the Soviet Communist Party, leaving Joseph Stalin in undisputed control of the Soviet Union.
1933 – Hugh Gray takes the first known photos of the Loch Ness Monster.
1935: An election to establish constitution for the Tuolumne Band of Me-Wok Indians of the Tuolumne Rancheria is authorized by the Secretary of the Interior.
1936 – In California, the San Francisco – Oakland Bay Bridge opens to traffic.
1941 – Madame Lillian Evanti, internationally famed opera singer, founded the National Negro Opera Company on this date
1948 –  An international war crimes tribunal in Tokyo passes death sentences on seven Japanese military and government officials, including General Hideki Tojo, who served as premier of Japan from 1941 to 1944.
1954 – Ellis Island in New York closes after serving as the gateway for 12 million immigrants from 1892 to 1924. From 1924 to 1954 it was mostly used as a detention and deportation center for undocumented immigrants
1956 – In the midst of the Suez Crisis, Palestinian refugees are shot dead in the village of Rafah by Israeli soldiers following the invasion of the Gaza Strip.
1965 – Rhodesian unilateral declaration of independence, UDI, is condemned by the UN.
1965, brothers Bill and Bob Summers set a world land-speed record—409.277 miles per hour—on the Bonneville Salt Flats in Utah. They did it in an amazing, hemi-powered hot rod they called the Goldenrod. (The car got its name from the '57 Chevy gold paint the brothers used.) Today, the Goldenrod is on display at the Henry Ford Museum in Dearborn, Michigan.
1969  – Seymour Hersh, an independent investigative journalist, in a cable filed through Dispatch News Service and picked up by more than 30 newspapers, reveals the extent of the U.S. Army's charges against 1st Lt. William L. Calley at My Lai. Hersh wrote: "The Army says he [Calley] deliberately murdered at least 109 Vietnamese civilians during a search-and-destroy mission in March 1968, in a Viet Cong stronghold known as 'Pinkville.'"
1970 – The Oregon Highway Division attempts to destroy a rotting beached Sperm whale with explosives, leading to the now infamous "exploding whale" incident.
1971 – President Richard Nixon sets February 1, 1972, as the deadline for the withdrawal of an additional 45,000 U.S. troops. U.S. troop withdrawals had begun in the fall of 1969. After the February withdrawals were complete, the total U.S. force strength in South Vietnam was 139,000. Nixon said that most offensive activities were now being undertaken entirely by the South Vietnamese and that U.S. ground forces were "now in defensive positions." He further stated that 80 percent of the forces that were in Vietnam when he took office had come home, and that American casualties had dropped to less than 10 a week.
1973 – Checkpoints outside Suez City, Egypt, are now under the control of the UN Emergency Force.
1977 – Ernest Nathan "Dutch" Morial was elected as the first Black mayor of New Orleans, LA
1979, President Jimmy Carter responds to a potential threat to national security by stopping the importation of petroleum from Iran.
1982 – Following the death of long-time Soviet leader Leonid Brezhnev two days earlier, Yuri Andropov is selected as the new general secretary of the Communist Party in the Soviet Union. It was the culmination of a long, but steady march up the Communist Party hierarchy for Andropov.
1990 – Crown Prince Akihito, the 125th Japanese monarch along an imperial line dating back to 660 B.C., is enthroned as emperor of Japan two years after the death of his father.
1990 – Tim Berners-Lee publishes a formal proposal for the World Wide Web.
1991 – Dili Massacre: Indonesian forces open fire on a crowd of student protesters in Dili, East Timor.
1996 – "Chainsaw Al" Dunlap announces he is restructuring the Sunbeam Corp. and lays off 6,000 workers—half the workforce. Sunbeam later nearly collapsed after a series of scandals under Dunlap's leadership that cost investors billions of dollars
1997 – Ramzi Yousef is found guilty of masterminding the 1993 World Trade Center bombing.
2003 – Iraq war: in Nasiriya, Iraq, at least 23 people, among them the first Italian casualties of the 2003 invasion of Iraq, are killed in a suicide bomb attack on an Italian police base.
2011 – Silvio Berlusconi tenders his resignation as Prime Minister of Italy, effective November 16, due in large part to the European sovereign debt crisis.
Birthdays
1651 – Sor Juana Inés de la Cruz, Mexican nun, scholar, and poet (d. 1695) She began her life as a nun in 1667 so that she could study at will. After taking her vows, Sor Juana read tirelessly and wrote plays and poetry, often challenging societal values and becoming an early proponent of women's rights. Sor Juana is heralded for her which defends women's rights to educational access, and is credited as the first published feminist of the New World.
1751: Margaret Corbin born (fought in American Revolution)
1790: Letitia Christian Tyler born (First Lady, wife of John Tyler; she appeared at no social functions except the White House wedding of her daughter; she died while Tyler was still President)
1815: Elizabeth Cady Stanton born (reformer: suffrage) American social activist, abolitionist, and leading figure of the early women's rights movement. Her Declaration of Sentiments, presented at the first women's rights convention held in 1848 in Seneca Falls, New York, is often credited with initiating the first organized women's rights and women's suffrage movements in the United States.
1840 – Auguste Rodin, French sculptor, created The Thinker (d. 1917)
1889 – DeWitt Wallace, founder of Reader's Digest, is born
1908: Ann Petry born (African American, journalist, writer)
1908 – Harold Andrew Blackmun (November 12, 1908 – March 4, 1999) was an Associate Justice of the Supreme Court of the United States from 1970 until 1994. Appointed by the conservative President Nixon, Blackmun ultimately became the most liberal justice on the Court. He is best known as the author of the Court's opinion in Roe v. Wade.
1911 – Buck Clayton (born Wilbur Dorsey Clayton; Parsons, Kansas, November 12, 1911 – New York City, December 8, 1991) was an American jazz trumpet player who was a leading member of Count Basie's "Old Testament" orchestra and a leader of mainstream-oriented jam session recordings in the 1950s. His principal influence was Louis Armstrong. The Penguin Guide to Jazz says that he "synthesi[zed] much of the history of jazz trumpet up to his own time, with a bright brassy tone and an apparently limitless facility for melodic improvisation". Clayton worked closely with Li Jinhui, father of Chinese popular music in Shanghai. His contributions helped change musical history in China, Hong Kong and Taiwan.
1917 – JO STAFFORD (1917-2008) Pop singer of World War II ballads like "I'll Be Seeing You" who was also an actress.
1929: Grace Patricia Kelly (actor, princess of Monaco, married ot Prince Rainier III)
1934 – Charles Manson, American cult leader and murderer
1909 – Bukka White, rocker – Delta blues guitarist who helped to form the Mississippi blues sound with songs like Shake 'em on Down.
1935 – Terry Johnson, US R&B singer (Flamingos-I Know Better)
1939 – Ruby Nash Garnett, American singer (Ruby & the Romantics)
1943 – John Walker, American singer-songwriter and guitarist (The Walker Brothers) (d. 2011)
1943 – Jimmy "Bro" Hayes, US singer (Persuasions-Under the Boardwalk)
1944 – Booker T. Jones, American musician, songwriter, and producer (Booker T and the MG's and The Mar-Keys)
1945 – Neil Young, Canadian singer-songwriter, guitarist, and producer (Buffalo Springfield, Crosby, Stills, Nash & Young, The Squires, The Mynah Birds, Northern Lights, and The Ducks)
1962 – Naomi Wolf, American author and activist
1969 – Kathleen Hanna, American singer and songwriter
Deaths
1252: Blanche of Castile died
1981: William Holden, star of Sunset Boulevard and Network, dies
1993 – H. R. Haldeman, American diplomat, 4th White House Chief of Staff (b. 1926)
1994: Wilma Rudolph died (Olympic athlete)
2003 – Tony Thompson, American drummer (Chic and Power Station) (b. 1954)
2012 – Bob French, American drummer and radio host (b. 1928)
 Sources: The People History; Wikipedia List of Historical Anniversaries; This Day in Women's History; This Day in Jewish History; This Day in African History;History.com; History Orb; Yenoba; Phil Konstantin's North American Indian History; and This Day in Music