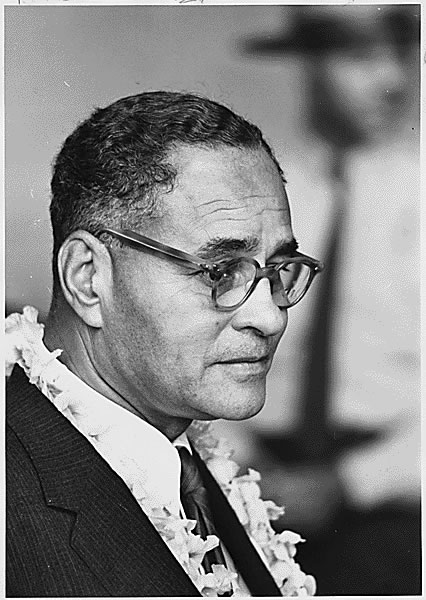 Podcast: Play in new window | Download
Subscribe: RSS
March 20, 2014 – Segment 1
Marc shares some of the events that happened on this day in history, including the publication of Uncle Tom's Cabin,  Einstein's 1916 publication of his theory of relativity, and Dr. Ralph Bunche's 1950 reception of the Nobel Peace Prize for his work as a mediator in the Palestine crisis. He is the first African American to be so honored.
Today is:
Independence Day, celebrates the independence of Tunisia from France in 1956.
International Day of Happiness (United Nations)
International Francophone Day (Organisation Internationale de la Francophonie) and its related observances: UN French Language Day (United Nations)
World Sparrow Day (Nature Forever Society)
On this day in history:
1602: The Dutch East India Company is established.
1852: Harriet Beecher Stowe's Uncle Tom's Cabin is published.
1852: Martin R. Delany published The Condition, Elevation, Emigration and Destiny of the Colored People of the United States; it was the first major statement of the Black Nationalist position. Delany said, "The claims of no people, according to established policy and usage, are respected by any nation, until they are presented in a national capacity." He added: "We are a nation within a nation; as the Poles in Russia, the Hungarians in Austria, the Welsh, Irish, and Scotch in the British dominions."
1854: The Republican Party of the United States is organized in Ripon, Wisconsin.
1916: Albert Einstein publishes his general theory of relativity.
1933: Within one month of taking office President Roosevelt set about pulling America out of the depths of the worst depression in history. He temporarily closed the nation's banks. He passed emergency legislation aimed at stabilizing financial institutions. Spoke on the nation's radio airwaves giving people hope and a much needed pep talk. Signed the Economy Act into law which cut salaries of federal employees including war veterans.
1950: Dr. Ralph Bunche receives the Nobel Peace Prize for his work as a mediator in the Palestine crisis. He is the first African American to be so honored.
1965: President Lyndon B Johnson informs Governor Wallace the Alabama Governor that he will call up the Alabama National Guard to supervise and ensure the safety of a planned civil rights march from Selma to Montgomery after the last march which had been shown on Television with local police and state troopers using Billy clubs and tear gas on the marchers.
1969: John Lennon of the Beatles marries Yoko Ono a Japanese avant-garde artist and musician.
1970: Students struck at the University of Michigan and demanded increased Black enrollment. The strike ended April 2, after the administration agreed to meet their demands.
1971: Janis Joplin started a two week run at No.1 on the US singles chart with the Kris Kristofferson's 'Me and Bobby McGee'. Joplin died the year before on 4th October aged 27.
1987: The Food and Drug Administration approved the sale of (azidothymidine) AZT, a drug shown to prolong the lives of some AIDS patients. A little known fact is that it was originally intended to treat cancer in 1924 but did not do well in trials, and had an unacceptably high side effect profile. AZT does not destroy the HIV infection, but only delays the progression of the disease and the replication of virus AZT is generally used in a cocktail of other drugs to treat AIDS Patients and also as a preventive treatment.
1990: Namibia gains independence ending 75 years of South African rule.
1991: In Automobile Workers vs. Johnson Controls, the United States Supreme Court ruled unconstitutional the exclusion of women from jobs where exposure to lead might harm the fetus unless the women could prove they were medically infertile; the decision was unanimous; the court noted that men were not subjected to similar requirements, though exposure by men to lead was also known to be harmful to reproduction.
1991: Michael Jackson signed a $1 billion (£0.6 billion) contract with Sony, the richest deal in recording history.
1995: Five two man terrorist teams from the Aum Shinrikyo religious ( doomsday cult ), riding on separate subway trains, converge at the Kasumigaseki station and secretly release lethal sarin gas into the air causing the death of Twelve people, and a further 5,500 treated in hospitals.
2003: American missiles hit the Iraqi capital, Baghdad, signaling the start of the US-led campaign to topple Saddam Hussein.
2004: Following the release of photographs published in worldwide news media of inmate Satar Jabar standing on a box with wires connected to his body and Lynndie England and Charles Graner posing with prisoners ordered to form human pyramid. The U.S. military charged seven soldiers of the 372nd Military Police Company with dereliction of duty, maltreatment, aggravated assault and battery of inmates at Abu Ghraib prison in Iraq.
2010: Thousands of people have taken to the streets of several Russian cities to protest at the Prime Minister, Vladimir Putin's, policies. Organized by the Communist Party, the Solidarity movement and human rights groups the protests have run under the banner of A Day of Anger. Police in Moscow have banned the protest there and detained seventy people. The  protests come from a mix of local and national issues, including unemployment.
2013: The US state of Colorado has passed a law that would put limits on guns in the state. The new law would require more background checks for those wishing to buy guns online and privately and it would limit the amount of rounds allowed in ammunition magazines. The changes in law came as a reaction to the tragic Sandyhook Shooting in Connecticut.
Born on this day in history:
1910: Allan Rohan Crite, painter, born. "To keep her six-year old busy while she wrote poetry, a young mother from Boston's Columbus Avenue gave her son art supplies and encouraged him to draw. A few years later, his teacher, Miss Brady, recognized the young boy's talents and suggested he attend the Children's Art School offered at that time by the Museum of Fine Arts. The boy, who grew to become internationally known artist Allan Rohan Crite credits these two women, a mother and a teacher, as the strongest influences in establishing his artistic career. "
1915: Sister Rosetta Tharpe born: gospel singer who influenced early rock and roll, called "the original soul sister." Born Rosetta Nubin on this day in Cotton Plant, AR. Featured in LIFE magazine, Ms. Tharpe received a contract with Decca Records and was propelled into national prominence when she performed "Rock Me" with Cab Callawoy and the Cotton Club Revue.
1925: John Ehrlichman, American lawyer, 12th White House Counsel (d. 1999)
1928: Fred Rogers, American television host (d. 2003)
1934: Willie Brown, American politician, 41st Mayor of San Francisco
1945: Pat Riley, American basketball player and coach
1949: Born on this day, Jimmie Vaughan, Fabulous Thunderbirds, US R&B band (brother of the late Stevie Ray Vaughan).
1956: Born on this day, Fonso Martin, Steel Pulse, (1978 UK No.35 'Prodigal Son').
1957: Vanessa Bell Calloway, American actress
1958: Holly Hunter born: actress won Academy Award for Best Actress for The Piano
1957: Spike Lee, American actor, director, producer, and screenwriter
1963: Kathy Ireland, American model, actress, and furniture designer
1971: Touré, American journalist and author.
On this day in history, we lost:
1916: An African native once kept in a Bronx zoo, Ota Benga, commits suicide. In 1906 the crowds thronged the monkey house exhibit at the Bronx Zoo (New York Zoological Park). Here were man's "evolutionary ancestors" – monkeys, chimpanzees, a gorilla named Dinah, an orangutan named Dohung and an African of short stature, misnomered a "pygmy," named Ota Benga. Ota Benga was brought from the Belgian Congo in 1904 by noted African explorer Samuel Verner along with other "pygmies" and displayed in an exhibit in the 1904 St. Louis world's Fair. Ota Benga (or "Bi", which means "friend" in his language) was born in 1881, had a height of 4 ft. 11in. and weighted 103 lbs. Although he was referred to as a boy he had been married twice. White colonists had captured his first wife and his second wife died by snakebite. After the St. Louis exhibit, Ota found himself at the Bronx Zoo which at that time was under the direction of Dr. William T. Hornaday, who was considered a bit eccentric. Hornaday believed animals had nearly human thoughts and personalities, and he could read the thoughts of zoo animals. He "apparently saw no difference between a wild beast and the little Black man" and insisted he was only offering an "intriguing exhibit". The exhibit was immensely popular and controversial; the black community was outraged and some churchmen feared that it would convince people of Darwin's theory of evolution. Under threat of legal action, Hornaday had Ota Benga leave his cage and circulate around the zoo in a white suit, but he returned to the monkey house to sleep. In time Ota Benga began to hate being the object of curiosity. "There were 40,000 visitors to the park on Sunday. Nearly every man, woman and child of this crowd made for the monkey house to see the star attraction in the park – the wild man from Africa. They chased him about the grounds at day, howling, jeering, and yelling. Some of them poked him in the ribs, others tripped him up, all laughed at him." At one point, he got hold of a knife and flourished it around the park, another time he produced a fracas after being denied a soda from the soda fountain. Finally, after fabricating a small bow and arrows and shooting at obnoxious park visitors he had to leave the park for good. After his park experience, several institutions tried to help him. He was placed in Virginia Theological Seminary and College but quit school to work in a tobacco factory. According to Hornaday "he did not possess the power of learning". Growing homesick, hostile, and despondent Ota Benga borrowed a revolver, and shot himself in the heart, ending his life in 1916.
1991: Eric Clapton's four year old son, Conor, fell to his death from the 53rd story of a New York City apartment after a housekeeper who was cleaning the room left a window open. The boy was in the custody of his mother, Italian actress, Lori Del Santo and the pair were visiting a friend's apartment. Clapton was staying in a nearby hotel after taking his son to the circus the previous evening. The tragedy inspired his song 'Tears in Heaven'.
1998: George Howard, American saxophonist (b. 1956)
2009: Mel Brown, American-Canadian singer-songwriter and guitarist (b. 1939)
2010: Ai, American poet (b. 1947)
Sources: The People History; This Day in Labor History; Wikipedia List of Historical Anniversaries; This Day in Women's History; This Day in African History;History.com; History Orb; Yenoba; Selected Black Facts; Phil Konstantin's North American Indian History; and This Day in Music