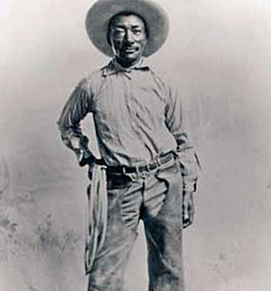 Podcast: Play in new window | Download
Subscribe: RSS
December 5, 2013 – Segment 1
Marc shares some of what happened on this day in history, including the day Pope Innocent VIII appointed inquisitors that defined how to torture and execute "witches," the day the Montgomery Bus Boycott began, and the birthday of famous cowboy of African-American and Native heritage, Bill Pickett.
Holidays
International Volunteer Day for Economic and Social Development
Discovery Day (Haiti and Dominican Republic)
Events
1484: Pope Innocent VIII issues bull "Summis desiderantes" appointing Henry Krämer and Jacob Sprenger as inquisitors. They publish Malleus Maleficarum in 1486, documenting "evidence" of witchcraft and defining how to accuse, test, sentence and execute witches. Torture is prescribed. Initiates several centuries of persecution.
1492 – Christopher Columbus becomes the first European to set foot on the island of Hispaniola (now Haiti and the Dominican Republic).
1496 – King Manuel I of Portugal issues a decree of expulsion of "heretics" from the country.
1787: Today, an Indian war party will attack several settlement in western Virginia, along Hacker's Creek. Four settlers will be killed in the fighting.
1835: Today, members of the Georgia Guard will arrest CHEROKEE Principal Chief John Ross at his home. Also arrested in historian John Howard Payne. Payne, the author of the song "Home, Sweet Home", was writing a history of the CHEROKEE people. They are be arrested so they will not be able to attend the "New Echota Treaty" conference.
1848 – California Gold Rush: In a message before the U.S. Congress, US President James K. Polk confirms that large amounts of gold had been discovered in California.
1911 – Unionists John T. and James B. McNamara are sentenced to 15 years and life, respectively, after confessing to dynamiting the Los Angeles Times building during a drive to unionize the metal trades in the city. They placed the bomb in an alley next to the building, set to detonate when they thought the building would be empty; it went off early, and an unanticipated gas explosion and fire did the real damage, killing twenty people. The newspaper was strongly conservative and anti-union
1911 – Turks defeated by Italian forces at Tripoli.
1932 – German-born Swiss physicist Albert Einstein is granted an American visa.
1933 : Prohibition comes to an end as Utah became the 36th state to ratify the 21st Amendment to the Constitution, repealing the 18th Amendment
1935 – Mary McLeod Bethune, educator, founded the National Council of Negro Women (NCNW) on this date. With over one million members, the group fought for social, economic, educational, and political justice for Blacks.
1945 – Flight 19 is lost in the Bermuda Triangle.
1946 – President Harry Truman issued Executive Order No. 9808 creating the Committee on Civil Rights on this date in 1946.  Members of the committee included Channing H. Tobias and Attorney Sadie Tanner Mossell Alexander.
1947 – Joe Louis and "Jersey" Joe Walcott fought in the first televised Heavyweight Boxing Championship in New York on this date in 1947.  Louis won the fight in 15 rounds.
1955 – Inspired by Rosa L. Parks' refusal to give up her seat in the front of a bus to a white person, the Montgomery Bus Boycott began on this date in 1955.  Dr. Martin Luther King, Jr., a leader in the boycott, was elected president of the newly formed Montgomery Improvement Association.
1955 – Asa Philip Randolph and Willard S. Townsend were elected Vice Presidents of the AFL-CIO
1955 – Ending a 20-year split, the two largest labor federations in the U.S. merge to form the AFL-CIO, with a membership estimated at 15 million
1957 – New York City adopted the Fair Housing Practices Law on this date in 1957.  With this law, New York became the first city to establish laws forbidding discrimination in housing based on race or religion.
1957 – Sukarno expels all Dutch people from Indonesia.
1964 – Vietnam War: For his heroism in battle earlier in the year, Captain Roger Donlon is awarded the first Medal of Honor of the war.
1966 : U.S. war planes were retaliating for the largest loss of their planes since the beginning of the Vietnam War. They hit targets near Hanoi and shot down an enemy plane. Near Saigon thirty Viet Cong were killed as well as three Americans.
1967, This was the final night of a 16-date UK package tour with Jimi Hendrix, Pink Floyd, The Move, The Nice, The Outer Limits, The Erie Apparent and Amen Corner at Green's Playhouse, Glasgow. All performances had two shows per night, in this case at 6.15pm, with the second at 8.45pm. Jimi Hendrix had the curtains closed on him halfway through his set, after the management at the venue regarded his movements with his guitar as having sexual overtones.
1977 : In Hamilton, Bermuda British soldiers from the Royal Regiment of Fusiliers were called in to control race riots in the city. The riots went on for three days and caused $5 million in damages. Civilians and 5,000 tourists stayed hidden indoors. There had been two nights of fire bombing by youth, but severe rains quelled the violence.
1977 – Egypt breaks diplomatic relations with Syria, Libya, Algeria, Iraq and South Yemen. The move is in retaliation for the Declaration of Tripoli against Egypt.
1983 – Dissolution of the Military Junta in Argentina.
1987 : One hundred and fifty American embassy workers and diplomats were withdrawn from Haiti due to the unstable political situation. They were expected to be home by Christmas. Eighty embassy employees were left behind to take care of essential services. Sixty-four million dollars in aid was withdrawn by President Reagan and Haiti's national elections were not held because voters were endangered.
1992 – Aid agencies are stripped by gunmen in Somalia on eve of US troop arrival.
1995 : Sri Lankan forces have taken back the city of Jaffna from Tamil Tiger guerrilla forces after a 7 week operation. The Tamil Tigers had been in control of the city for some time and had their own police force, law courts and were collecting taxes from the city population.
1996 : Federal Reserve Chairman Alan Greenspan questions whether the stock market is overvalued, saying in a speech in Washington, "How do we know when irrational exuberance has unduly inflated asset values? that is thought to have led Japanese stocks to fall 3.2%
1999 – AFL-CIO President John Sweeney welcomes the collapse of World Trade Organization talks in Seattle, declaring, "No deal is better than a bad deal."
2005 : The Civil Partnership Act comes into law. ( The Civil Partnership Act grants civil partnerships "which include same sex partnerships" in the United Kingdom with rights and responsibilities identical to civil marriage ).
2006 – Commodore Frank Bainimarama overthrows the government in Fiji.
2008 – The U.S. Department of Labor reports employers slashed 533,000 jobs the month before—the most in 34 years—as the Great Recession surged. The unemployment rolls had risen for seven months before that and were to continue to soar for another 10 months before topping 10 percent and beginning to level off late the following year
2008 : O.J. Simpson, who was acquitted for the well-known double murder in Los Angeles is sentenced for up to thirty-three years in prison for robbing a pair of memorabilia dealers. He will not be eligible for parole for nine years.
Birthdays
852 – Zhu Wen, Chinese emperor of the Later Liang Dynasty (d. 912)
1537 – Ashikaga Yoshiaki (December 5, 1537 – October 19, 1597)[1] was the 15th shogun of the Ashikaga shogunate in Japan who reigned from 1568 to 1573.
1782 – MARTIN VAN BUREN (1782-1862) Eighth president of the United States and the first president not of British or Scots-Irish ancestry, as well as the first to be born in the U.S.
1822 – Elizabeth Cabot Agassiz was an American educator, and the co-founder and first president of Radcliffe College. A researcher of natural history, she was a contributing author to many scientific published works with her husband, Louis Agassiz
1830 – CHRISTINA ROSSETTI (1830-1894) British poet known for her poem, "Goblin Market," and for her lyrics to the carol, "In the Bleak Midwinter."
1839 – GEORGE ARMSTRONG CUSTER (1839-1876) War hero who served in the Indian Wars and on the Union side in the American Civil War.
1857 – Alice Brown was an American novelist, poet and playwright, best known as a writer of local color stories. She also contributed a chapter to the collaborative novel, The Whole Family
1870 – BILL  PICKETT (1870-1932) A 19th century performer who was one of the pioneers of the American rodeo. Inventor of "bull dogging" (steer wresting), was born in Williamson County, TX. Although there were thousands of African American cowboys who helped to shape the history of the American West, their stories have largely been left out of accounts of that time. 

1886 – Rose Wilder Lane (December 5, 1886 – October 30, 1968) was an American journalist, travel writer, novelist, and political theorist. She is noted – with Ayn Rand and Isabel Paterson – as one of the founding mothers of the American libertarian movement.
1890 – FRITZ LANG (1890-1976) Expressionist filmmaker who directed the silent masterpiece Metropolis.
1898 – Grace Moore, Slabtown, Tennessee, American soprano (One Night of Love)
1899 – Sonny Boy Williamson, [Aleck Miller], blues player – Blues harmonica player, singer and songwriter. Van Morrison, The Who, The Animals, Yardbirds and Moody Blues all covered his songs.
1901 – WALT DISNEY (1901-1966) Animator, voice actor, producer, and entertainer who founded The Walt Disney Company and created the animated icon, Mickey Mouse.
1901 – WERNER HEISENBERG (1901-1976) German theoretical physicist and one of the key creators of quantum mechanics who was awarded the Nobel Prize in Physics in 1932.
1902 – STROM THURMOND (1902-2003) Senator from South Carolina who served the state for forty-eight of his 100 years.
1905 – OTTO PREMINGER (1905-1986) Austrian director of the 1960 film Exodus.
1915 – Carl Donnell "Kansas" Fields, drummer
1924 – Robert Mangaliso Sobukwe, leader of South Africa's Pan Africanist Congress, PAC.
1932 – Little Richard [Wayne Penniman], Macon, Georgia, American singer-songwriter (Tutti Frutti)
1934 – JOAN DIDION – Most notable for her novels, which involve sociological themes and the unraveling of American morality.
1935 – Calvin Marshall Trillin (born December 5, 1935) is an American journalist, humorist, food writer, poet, memoirist and novelist.
1938 – John J Cale, Oklahoma City, rock guitarist (After Midnight), (d. 2013)
1953 – Jonathan Lewis, trombonist (Atlantic Star-Touch a 4 Leaf Clover)
1953 – Gwen Lister (born 5 December 1953 in East London, South Africa) is a Namibian journalist, publisher, apartheid opponent and press freedom activist.
1965 – Wayne Smith, Jamaican reggae musician
1968 – MARGARET CHO – Comedian known for her critiques of social and political problems turned fashion designer.
1982, Born on this day, Keri Lynn Hilson, American R&B singer and songwriter, part of a collective of writers and producers known as The Clutch.
1983 – JACKIE APPIAH – Award-winning Ghanaian actress who was known for roles in such films as "The Perfect Picture" and "Mummy's Daughter."
1968 – Lydia Millet (born 5 December 1968) is an American novelist. Her third novel, My Happy Life, won the 2003 PEN Center USA Award for Fiction, and she has been a finalist for the Pulitzer Prize and the Los Angeles Times Book Prize.
1969 – Morgan J. Freeman (born December 5, 1969) is an American film director. In 1997, his debut feature, Hurricane Streets, became the first narrative film to win three awards at the Sundance Film Festival
Deaths
1784 – Phyllis Wheatley, one of the first Black female poets in America, died on this date
1791 – Wolfgang Amadeus Mozart, composer, dies in Vienna Austria at 35
1870 – Alexandre Dumas was a French writer, best known for his historical novels of high adventure.
1929: Claude Monet (French: [klod mɔnɛ] or [mɔne]; 14 November 1840 – 5 December 1926) was a founder of French impressionist painting, and the most consistent and prolific practitioner of the movement's philosophy of expressing one's perceptions before nature, especially as applied to plein-air landscape painting.[1][2] The term Impressionism is derived from the title of his painting Impression, Sunrise (Impression, soleil levant).
1953 – Jorge Negrete, Mexican singer and actor (b. 1911)
1972 – Kenny Dorham [McKinley], American jazz trumpeter, dies at 48
1987 – Fat Larry James, drummer, singer and leader of Fat Larry's Band died of a heart attack aged 38. Scored the 1982 UK No.2 single 'Zoom'. The opening drum break from Down On The Avenue, from the band's first album, Feel It has been sampled by N.W.A. Ice-T, Jungle Brothers and Run-D.M.C.
1995: Lisa McPherson (February 10, 1959 – December 5, 1995) was a member of the Church of Scientology who died of a pulmonary embolism while under the care of the Flag Service Organization (FSO), a branch of the Church of Scientology.
1995 – Leonard Brandt Cole[1] (August 28, 1918–December 5, 1995)[2] was a comic book artist, editor, and publisher who worked during the Golden Age of Comic Books, producing work in various genres.
1996 – Peter Hall, folklorist/musician, dies at 60
2009 : William Julius Lederer, Jr. (March 31, 1912 – December 5, 2009) was an American author. He died in Baltimore on this day
2012 – Dave Brubeck, American jazz pianist, dies from heart failure at 91
 Sources: The People History; Wikipedia List of Historical Anniversaries; This Day in Women's History; This Day in Jewish History; This Day in African History;History.com; History Orb; Yenoba; Phil Konstantin's North American Indian History; and This Day in Music