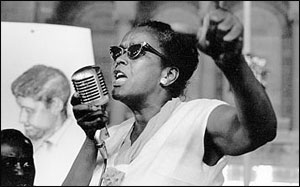 Podcast: Play in new window | Download
Subscribe: RSS
December 13, 2013 – Segment 1
Marc shares some of what happened on this day in history, including the independence of Saint Lucia from the United Kingdom, the birth and death day of civil rights activist Ella Baker, and the day A. Leon Higginbotham, Jr., jurist, scholar, teacher, and humanitarian, died.
Holidays
Republic Day (Malta)
Saint Lucy's Day (mainly Scandinavia, some regions of Italy (for example, Sicily, Veneto and Trentino), and Malta), and its related observances:
National Day, celebrates the independence of Saint Lucia from United Kingdom in 1979.
Events
1636 – The Massachusetts Bay Colony organizes three militia regiments to defend the colony against the Pequot Indians. This organization is recognized today as the founding of the National Guard of the United States.
1763: Lancaster County, Pennsylvania faces a series of Indian attacks.
1801: In treaty negotiations which begin today at Fort Adams, Missisissippi, between the CHOCTAW and the United States, the U.S. agrees to provide training in the spinning of cotton and spinning wheels. The conference will last through December 18th.
1937 : Japanese forces capture the city of Nanking and Japanese General Matsui Iwane orders the city of Nanking to be destroyed. Japanese troops launched a campaign of atrocities against civilians. including the massacre of an estimated 200,000 and the rape and mutilation of at least 20,000 women and girls of all ages .
1939 : Gone With The Wind Premiers in Atlanta, Georgia. The movie adapted from the novel by Margaret Mitchell published in 1936.
1944 – Black women were admitted into the Women's Naval Corps (WAVES) on this date
1944 : In Sarreguemines, France one thousand allied soldiers who had been German captives became free as the 39th division stormed their prison. The liberated group included Russian, Polish, Italian, Serbian, and Yugoslavian soldiers who smiled at their new liberty.
1957 – Daniel A. Chapman became Ghana's first Ambassador to the United States
1958 – The UN rejects a call for Algerian independence.
1960 – While Emperor Haile Selassie I of Ethiopia visits Brazil, his Imperial Bodyguard seizes the capital and proclaims him deposed and his son, Crown Prince Asfa Wossen, Emperor.
1966 : King Saud, previous king of Saudi Arabia was overthrown by his brother Fiesal. Saud was ailing and wanted to live in Egypt. Egypt's president, President Abdul Gamel Nasser, who King Saud is suspected of trying to assassinate, allowed the ailing former king to come to Egypt.
1966, Jimi Hendrix made his TV debut on ITV's 'Ready Steady Go!' (Marc Bolan was also on the show). The Jimi Hendrix Experience also recorded 'Foxy Lady' on this day.
1969, Bob Dylan was featured on the cover of Rolling Stone magazine, on sale for 35 Cents
1972 : 300 British Thalidomide victims are being offered a compensation deal said to be worth £11.85 million over 10 years which is rejected by the victims. ( Eventually an agreement is reached providing £20.00 million. Thalidomide became notorious in the mid 50's to early 60's when it was prescribed to pregnant women to ease morning sickness. and was marketed under the names Distaval, Talimol, Nibrol, Sedimide, Quietoplex, Contergan, Neurosedyn, and Softenon.
1978 : The first Susan B. Anthony ( a key figure in the woman suffrage movement )dollar is minted but is not accepted by the public due to it's very similar appearance to the quarter
1981 : Martial law and a state of emergency is imposed by Poland's military rulers. Leaders of the Solidarity trade union have been placed under arrest for inciting the unrest and the army are on the streets in a massive show of military strength imposing strict censorship and a curfew.
1986, Bruce Hornsby & The Range went to No.1 on the US singles chart, with 'The Way It Is'. Written by Bruce Hornsby and his brother John Hornsby, it made explicit reference to the American Civil Rights Movement. The song was heavily sampled by Tupac Shakur in his song, 'Changes' from 1998.
1988 : Following the refusal of the US to grant Yasser Arafat a Visitors Visa the United Nations is convened in Geneva, Switzerland so that PLO chairman Yasser Arafat can address the U.N. General Assembly .
1988 – Agreement is reached between the US, South Africa, Angola and Cuba for Namibian independence and the withdrawal of Cuban forces from Angola.
1989 : President Hafez Assad, Syria's president got an order from U.S. President George Bush to expel Amed Jibril or face being cut off from American diplomacy. Jibril was suspected of blowing up Pan Am flight 103 and killing 259 people, most of who were American citizens.
1995 : Brixton Riots, UK – Hundreds youths take to the streets at Brixton, in south London attacking police, ransacking shops and burning cars
1996 : The U.N. Security Council chooses Kofi Annan of Ghana to be the United Nations seventh secretary-general.
2000 : Seven prisoners escape from the John Connally Unit maximum-security state prison near Kenedy, Texas, they were captured in January and due to them shooting and murdering a police officer during a crime receive the death sentence.
2001 : The Pentagon released a captured videotape of Osama bin Laden in which the al-Qaida leader said the deaths and destruction achieved by the September 11th attacks exceeded his "most optimistic" expectations.
2001 : President George W. Bush served formal notice that the United States was pulling out of the Anti-Ballistic Missile Treaty with Russia.
2002 : Cyprus, the Czech Republic, Estonia, Hungary, Latvia, Lithuania, Malta, Poland, Slovakia, and Slovenia are accepted into the European Union and will become members from 1st May 2004.
2003, Lauryn Hill launched a blistering attack on the Catholic church, urging religious figures to "repent" whilst speaking on a stage regularly used by the Pope. The former Fugees singer was playing at a Christmas show in Vatican City and took the opportunity to speak her mind about allegations of sexual abuse in America, before an audience that included top Vatican cardinals, bishops and the cream of Italian society.
2003 : Saddam Hussein is captured by U.S. forces at a farmhouse in Adwar, near his hometown of Tikrit.
2006 : In Tehran, Mahmoud Ahmadinejad spoke to a crowd of people who deny the Holocaust ever existed and asserted, "The Zionist regime will be wiped out the same way the Soviet Union was, and humanity will achieve freedom." Hostility over this meeting could have sanctions placed on Iran by the United States.
2006 : Some ten thousand researchers have signed a statement protesting about political interference in their scientific work. The statement, which includes the backing of fifty-two Nobel Laureates, demands a restoration of scientific integrity in government policy-making and announcements.
2007 : Rupert Murdoch buys Dow Jones & Co. which includes The Wall Street Journal for $5 billion-plus
2007 : Mitchell Report to the Commissioner of Baseball of an Independent Investigation into the Illegal use of anabolic steroids and human growth hormone by Players in Major League Baseball is released which names 89 Major League Baseball players who are alleged to have used them.
2007 :Pakistan – Pervez Musharraf has put the country's nuclear weapons under the control of the president, rather than its prime minister. On issuing an ordinance the president must have it ratified by parliament within six months. This move comes amid concern abroad that the country's nuclear arsenal falling into the hands of Islamist extremists.
2008, Kanye West went to No.1 on the US album chart with '808s & Heartbreak', his fourth studio album.
2012 : A law was implemented that would make it mandatory for television advertisements to be played at the same volume level as the main program. The FCC adopted the rules a year prior but allowed a one-year grace period to adjust.
Births
1818 – Mary Todd Lincoln born (First Lady)
1841 – Sarah Emma Edmonds (December 1841[1] – September 5, 1898[2]), was a Canadian-born woman who is known for serving as a man with the Union Army during the American Civil War. A master of disguise, Edmonds exploits were described in the bestselling Nurse and Spy in the Union Army. In 1992 she was inducted into the Michigan Women's Hall of Fame.
1883 – Belle da Costa Greene (December 13, 1883 in Washington, D.C. – May 10, 1950 in New York City, New York) was the librarian to J. P. Morgan. After his death in 1913, Greene continued as librarian under his son, Jack Morgan.
1902 – Talcott Parsons, American sociologist (d. 1979)
1903 – Ella Baker, American activist (d. 1986)
1906 – Laurens van der Post, South African author (d. 1996)
1925 – Dick Van Dyke – American actor, comedian, writer, and producer best known for the television series "The Dick Van Dyke Show" which ran for five years from 1961 to 1966 and "Diagnosis Murder" which ran for 8 seasons from 1993 to 2001.
1940, Born on this day, Tony Gomez, The Foundations, (1967 UK No.1 single 'Baby Now That I've Found You'. 1969 US No.3 single 'Build Me Up A Buttercup'.)
1945, Born on this day, Robert Martinez, ? & The Mysterians, (1966 US No. 1 & UK No.37 single '96 Tears'). '96 Tears' was a UK No.17 hit for The Stranglers in 1990.
1948, Born on this day, Jeff 'Skunk' Baxter, guitar, Doobie Brothers, Steely Dan, (1973 US No.11 single 'Reeling In The Years').
1953 – Ben Bernanke, American economist, 14th Chairman of the Federal Reserve
1957 – Morris Day, American singer-songwriter and actor (The Time and Flyte Tyme)
1957 – Eric Marienthal, American saxophonist (Chick Corea Elektric Band and Gordon Goodwin's Big Phat Band)
1967 – Jamie Foxx is an American actor, stand-up comedian, and singer and his movies include Any Given Sunday, Toys, Collateral, Jarhead, Miami Vice, and Dreamgirls, The Kingdom and Ray the biographical movie about Ray Charles where he played the starring role which won him an Academy Award for Best Actor.
Deaths
1924 – Death in San Antonio, Texas, of Samuel Gompers, president and founder of the American Federation of Labor
1986 – Ella Baker, American activist (b, 1903)
1998 – A. Leon Higginbotham, Jr., jurist, scholar, teacher, and humanitarian, died on this date; was a prominent African-American civil rights advocate, author, and federal appeals court judge. Higginbotham was the seventh African-American Article III judge appointed in the United States, and the first African-American judge on the United States District Court for the Eastern District of Pennsylvania.[1] He served as Chief Judge of the Third Circuit Court of Appeals from 1990 to 1991. Higginbotham is well remembered for his legal scholarship reflected in over 650 published legal opinions, articles, and books on racial law in Colonial America.
2011 – T.J. Bass, American science fiction author (b. 1932)
Sources: The People History; Wikipedia List of Historical Anniversaries; This Day in Women's History; This Day in Jewish History; This Day in African History;History.com; History Orb; Yenoba; Phil Konstantin's North American Indian History; and This Day in Music