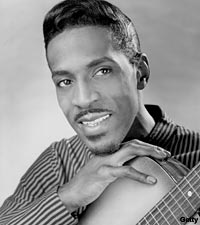 Podcast: Play in new window | Download
Subscribe: RSS
December 12, 2013 – Segment 1
Marc shares some of what happened on this day in history, including Jamhuri Day, celebrating the independence of Kenya from Britain, the day Baltimore County's own Benjamin Banneker finished the first clock made entirely in America, and the day Ike Turner passed away.
Holidays
Jamhuri Day, celebrates the independence of Kenya from Britain in 1963.
Events
1729: Today, the YAZOO Indians will attack French Fort St.Pierre in southern Louisiana. The YAZOO have joined the NATCHEZ in their fight against the French. They will kill all 17 of the soldiers at the fort. They give the women and children to the CHICKASAWs as slaves.
1754 – Benjamin Banneker, mathematician, astronomer, and inventor, completed the first clock made entirely in America on this date in 1754. Born in Baltimore County, Maryland, to a free African American woman and a former slave, Banneker had little formal education and was largely self-taught. He is known for being part of a group led by Major Andrew Ellicott that surveyed the borders of the original District of Columbia, the federal capital district of the United States.
1787 – Pennsylvania becomes the second state to ratify the United States Constitution five days after Delaware became the first.
1791: Report of St.Clair's defeat reaches the Army.
1870 – Joseph H. Rainey of South Carolina becomes the second black U.S. congressman, the first being Hiram Revels.
1897 – Belo Horizonte, the first planned city in Brazil, is founded.
1899 – G. F. Grant, inventor, patented the Golf Tee on this date. He was the first African American professor at Harvard.
1900 : In Dublin, Ireland Irish delegates convened to create what they called the "Irish Party" and denounced British atrocities in the Boer War. An applauded John Dillon proposed a resolution passed that "the South African war was entered upon in pursuance of a conspiracy to deprive two free nations of their liberty in the interests of capitalists and mine owners.
1901 : Marconi sends first wireless transmission over 2000 miles across the Atlantic Ocean from Poldhu in Cornwall, England, to Newfoundland, Canada . The transmission consisted of the Morse-code signal for the letter "s" which consists of three dots ( … ).
1913 : The Mona Lisa is recovered Two years after it's theft from the Louvre Museum in Paris in Florence in Italian waiter Vincenzo Peruggia's hotel room.
1917 : Major Vivian Gilbert of the British army revealed the inside story of how Jerusalem fell during the First World War. He said that an army cook was out looking for eggs and was presented with the keys to the city by the mayor. The British won the Holy Land back from the Turks.
1924 – Spanish troops are pushed out of Morocco by Abd el Krim.
1925 : The first Motel opens the Milestone Mo-Tel of San Luis Obispo, California as the midpoint stop between Los Angeles to San Francisco and costing $1.25 per night per room, The word Motel was a shortening of the words Motorists and Hotel. A motel allowed the customers to park their car outside their room or chalet.
1937 : Benito Mussolini withdrew Italy from the League of Nations and challenged democracies to fight with his army. One hundred thousand fascists stood in the rain and someone shouted, "We are leaving a tumbling temple where there is no talk of peace, but where wars are prepared."
1937 : Japanese Aircraft sink the U.S. Gunboat Panay in Chinese Waters, Japan appologises and makes reparations, This happened during Japan's war of Invasion against China and is not part of the second world war.
1938 – In the case of Missouri ex rel Gaines, the Supreme Court ruled, on this date in 1938, that a state must provide equal educational facilities for Blacks within its borders.
1946 : The millionaire benefactor John D. Rockefella Jr. offers the United Nations a six-block tract of Manhattan real estate for the site of U.N. headquarters, which is accepted by the UN.
1950 – Paula Ackerman, the first woman appointed to perform rabbinical functions in the United States, leads the congregation in her first services.
1955, Johnny Cash, Carl Perkins and Elvis Presley all appeared at the National Guard Armory, Armory, Mississippi.
1957, Al Priddy a DJ on US radio station KEX in Portland was fired after playing Elvis Presley's version of 'White Christmas' The station management said, 'it's not in the spirit we associate with Christmas'.
1963 : Kenya gained its independence from Britain and the Kenya African National Union (KANU) headed by Jomo Kenyatta takes over the country.
1964 – Kenya declared a republic.
1970, Smokey Robinson and the Miracles started a two week run at No.1 on the US singles chart with 'Tears Of A Clown'.
1970, The Doors played what would be their last ever live show with Jim Morrison when they played at the Warehouse in New Orleans.
1975 : A federal licensing of all firearms was recommended by the dean of law, Martin Friedland, who works at the University of Toronto. He said that gun users should have to pass a competency test and undergo a criminal record check.
1992, Whitney Houston started a twenty-week run at No.1 on the US album chart with 'The Bodyguard'.
1993 – Ronald (Ron) H. Brown, former Chairman of the Democratic National Committee, was appointed head of the Department of Commerce by President Bill Clinton
1995 – In a run-off election, Willie Lewis Brown became the first Black mayor of San Francisco, CA, on this date in 1995. The original election was on November 7, 1995.
2000 : The United States Supreme Court hands out its ruling over the counting of ballets in Florida which allowed Florida Secretary of State Katherine Harris's previous certification of George W. Bush as the winner of Florida's electoral votes to stand and effectively ending the 2000 presidential election in favor of George W. Bush.
2006 – A U.S. immigration sweep of six Swift meat plants results in arrests of nearly 1,300 undocumented workers
2011 : Moncef Marzouki, a human rights activist and opposition leader, was elected to be President of Tunisia by the Constituent Assembly. Marzouki had been in exile for twenty years and only returned to the country after former president Zine al-Abidine Ben Ali was forced out of office in January.
2011 : Occupy Wall Street protesters along the US West coast blocked three ports in California, Oregon, and Washington, disrupting work in the ports. The protests were deemed successful after several workers at the different ports were sent home over safety concerns. The aim of the protests was to hurt profits of companies that run the harbors, but many truck drivers claim that they were the ones hurt by the protest as they could not deliver and pick up goods for transport.
Births
1745 – John Jay, American jusrist and politician, 1st Chief Justice of the United States (d. 1829)
1805 – William Lloyd Garrison, American journalist and activist (d. 1879)
1857 – Lillian Nordica (December 12, 1857 – May 10, 1914) was an American opera singer who had a major stage career in Europe and her native country.
1869 – Clara Mannes (born Clara Damrosch; 1869–1948) was a German-born American musician and music educator. With her husband, David Mannes, she founded the Mannes College The New School for Music in 1916 (then simply the David Mannes Music School).
1873 – Lola Ridge (12 December 1873 Dublin – 19 May 1941 Brooklyn) was an anarchist poet and an influential editor of avant-garde, feminist, and Marxist publications best remembered for her long poems and poetic sequences.[1] She, along with other political poets of the early Modernist period, has been coming under increasing critical scrutiny at the beginning of the 21st century. Although never a member of any political party, she protested against the execution of Sacco and Vanzetti in 1927, for which she was arrested. She also supported Tom Mooney, and Warren Billings, who had been framed for a bombing at the Preparedness Day Parade in San Francisco in 1916. Her third book, Red Flag 1927 collected much of her political poetry.
1878 – Rachel Crothers (December 12, 1878 – July 5, 1958) was an American playwright and theater director known for her well-crafted plays that often dealt with feminist themes. Among theater historians, she is generally recognized as "the most successful and prolific woman dramatist writing in the first part of the twentieth century."[1] One of her most famous plays was Susan and God (1937), which was made into a film by MGM in 1940 starring Joan Crawford and Fredric March.
1893 – Edward G. Robinson – His family emigrated to the United States shortly after he was born and he won a scholarship to attend the American Academy of Dramatic Arts, he began his acting career aged 20 and his first big break came as the gangster Rico Bandello in Little Caesar (1931) and never looked back , He is best known for his roles as a gangster but also playing Dathan in Cecil B. DeMille's Biblical epic, The Ten Commandments, during his career in the movies he made over 100 films and although never winning an Oscar he did receive an honorary Oscar in 1973.
1915 – Frank Sinatra – American singer songwriter who is best remembered as "Ol Blue Eyes" who had a string of hits in the 40's and appeared in multiple movies winning an Academy Award for Best Supporting Actor for his performance in From Here to Eternity
1928 – Helen Frankenthaler (December 12, 1928 – December 27, 2011) was an American abstract expressionist painter. She was a major contributor to the history of postwar American painting.
1938, Born on this day, Connie Francis, singer
1940, Born on this day, Dionne Warwick, US singer
1942, Born on this day, Declan Clusky
1943, Born on this day, Dicky Betts, guitar, vocals, Allman Brothers Band
1943, Born on this day, Grover Washington Jr, singer
1944, Born on this day, Rob Tyner, US singer, MC5
1945, Born on this day, Alan Ward, The Honeycombs
1946, Born on this day, Clive Bunker, drummer, Jethro Tull
1959, Born on this day, Sheila E. singer and percussionist discovered by Prince, she had the 1985 US & UK Top 20 single 'The Belle Of St Mark'. Also worked with Stevie Wonder, Mariah Carey, Phil Collins, Whitney Houston & Celine Dion.
1968, Born on this day, Danny Boy, US rap group, House Of Pain
Deaths
1968 – Tallulah Brockman Bankhead (January 31, 1902 – December 12, 1968) was an American actress of the stage and screen,[1] talk-show host, and bonne vivante.[2] Bankhead was also known for her deep voice, flamboyant personality, and support of liberal causes, which broke with the tendency of Southern Democrats at the time to support a more conservative agenda. She was inducted into the Alabama Women's Hall of Fame in 1981.
2000 – Ndabaningi Sithole, Zimbabwean militant leader, founded Zimbabwe African National Union (b. 1920)
2003 : Keiko the Orca (or killer whale) made famous by the "Free Willy" movies, died in the Norwegian fjord that had become his home. Keiko was originally captured near Iceland in 1979 and sold to the Icelandic aquarium, Following public pressure for his release after his starring role in the movies he was airlifted to Taknes fjord in Norway where many hoped he could be returned to the wild
2007, Ike Turner, the former husband of Tina Turner died at the age of 76 at his home near San Diego, California. Turner who was a prolific session guitarist and piano player is credited by many music historians with making the first rock 'n' roll record in 1951. After marrying Tina Turner in 1959, the pair released a string of hits including the Phil Spector produced 'River Deep Mountain High.'
2012 – Eddie "Guitar" Burns, American singer-songwriter and guitarist (b. 1928)
Sources: The People History; Wikipedia List of Historical Anniversaries; This Day in Women's History; This Day in Jewish History; This Day in African History;History.com; History Orb; Yenoba; Phil Konstantin's North American Indian History; and This Day in Music