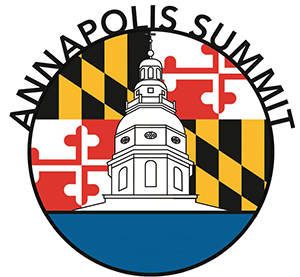 Podcast: Play in new window | Download
Subscribe: RSS
December 25, 2017 – The Battle over Budgets
In our newest Countdown to the Annapolis Summit podcast, we look at the issue of the Budget, which will be debated in the 2018 Maryland General Assembly.
As always, the budget looms as a crisis to be debated in Annapolis. Will the members of the legislature address the looming structural deficit of $1.2 Billion that is coming in the year 2022? How will they — or will they — pay for the billions of dollars for our schools it appears the Kirwin commission will suggest?  How much does the new federal tax plan affect Maryland's citizens and our state budget?  What will the state legislature do?
Joining us are two State Senators, both of whom sit on the Budget and Taxation Committee: Washington County Republican Andrew A. Serafini, and Baltimore City Democrat Bill Ferguson.
The 15th Annual Annapolis Summit will be held on the Opening Day of the Maryland General Assembly, January 10, 2018, from 7:30-9:30am, at the Governor Calvert House in Annapolis. The event starts at 7:30am with a networking breakfast, and then beginning at 8:00 I will interview Governor Larry Hogan, President of the Senate Thomas V. " Mike" Miller and Speaker of the House Michael Busch. 
You can purchase tickets to the 15th Annual Annapolis Summit 
here
!