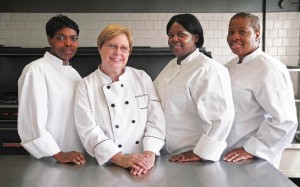 Podcast: Play in new window | Download
Subscribe: RSS
July 18, 2013 – Hour 2
Since 2002, when it was first established as a non-profit, the Baltimore Outreach Services homeless shelter has been more than just temporary housing for homeless women and children; it has been a place of hope. Those who seek out B.O.S. for its twenty-four hour emergency shelter services are soon provided with the resources needed to move beyond unemployment and homelessness. B.O.S. aids each woman in finding employment, finding permanent housing, and finding a sense of self empowerment that comes with making positive changes in one's life.
For the past five years, the population of homeless women and children has stayed consistent in its numbers and the forty beds that are near full every night at the B.O.S. shelter is evidence of that. The shelter has about a ninety-seven percent utilization rate and gets around twenty calls a day from individuals seeking help. B.O.S. is one of only four shelters for homeless women and children.
Upon entry into the shelter, each woman meets with a case worker who provides in depth assessments and the aid needed to advance into a job and a permanent home. Director of Job Development Cathy Wood-Ruppert makes sure the women in the shelter are as prepared as possible to find employment. Writing resumes and conducting mock job interviews are just some of the ways the women prepare for securing a job.
Other services offered by the shelter include educational assistance, substance abuse treatment, and life skills classes led by trained social workers and therapists. One of the successful facets of the shelter is the Culinary Arts Program run by Chef Connie Crabtree. Students learn from Chef Crabtree and her thirty years of experience working as a professional chef and kitchen manager. Graduates of the eight week program find themselves ready for a job in a professional kitchen.
There are also programs for the children living at the shelter. There is a daycare for infants and toddlers as well as an after-school program for all ages. Certified teachers lead educational activities, organize field trips, and assist in homework help. The staff at B.O.S. creates a stable and safe environment for the children who have to deal with the effects of homelessness.
Located in the Federal Hill neighborhood, Baltimore Outreach Services has seen its relationship with the community evolve positively. Founding Executive Director Karen Adkins acknowledges that in the beginning, residents had questions about what it would be like to have a homeless shelter in the neighborhood. But, the success of the shelter is in part due to the support of the Federal Hill community. The community association donates to the shelter and community residents like Anne West have become dedicated volunteers.
Staff members like Shelter Director Carla Richardson and Deputy Director Donna Rich are working hard to ensure that the shelter continues into another decade of success. This includes not only working with the women but creating and maintaining those partnerships within the surrounding community and with local businesses and organizations; organizations like Baltimore Outreach Services that are willing to give these women a helping hand.