Podcast: Play in new window | Download
Subscribe: RSS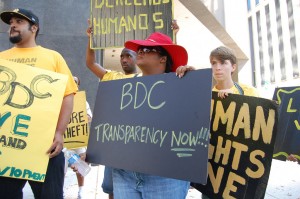 Ashley Hufnagel and Luis Larin, Leadership Organizers at the United Workers, came to the studio today to talk about the state of workers' rights in the Inner Harbor.  
The United Workers, who are seeking improvements in the wages and benefits for workers at the Inner Harbor development, joined us to discuss a recent request from The Cordish Companies for a $3 million break in rent from the city.  The Baltimore Development Corporation, a non-profit that contracts with the city to provide development services, has held closed-door meetings with Cordish about their proposal, and the United Workers staged a protest outside of BDC offices to ask them to make all documents about their negotiations public.
BDC declined to participate in today's show, and requests to the Mayor's office and Cordish Companies were not answered.