Podcast: Play in new window | Download
Subscribe: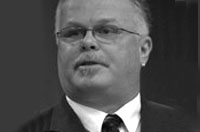 Join us for an Urbanite Radio story, based on Michael Corbin's piece The Ultimate Punishment, which asks why Maryland's death penalty remains in legal limbo.
Kirk Bloodsworth spent eight years in prison in Maryland – including two on death row – for a crime he did not commit.  At his release in 1993 he became the first person sentenced to death row who was exonerated by the then-new technique of DNA fingerprinting.  He joined us in the studio to discuss the future of the death penalty in Maryland, and his advocacy work for reform of the death penalty.