Podcast: Play in new window | Download
Subscribe: RSS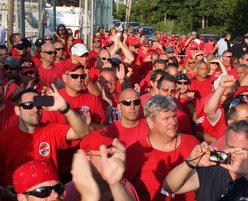 Bill Dulaney, President of the Communications Workers of America Local 2101, and Bill Barry, Director of Labor Studies at the Community College of Baltimore County, join us for an update on the ongoing strike by about 45,000 Verizon employees.  The employees and their unions went out on strike after failing to reach an agreement on a new contract with Verizon.
We also invited Verizon to have a representative take part in the discussion, but they declined, providing this statement instead:
Verizon has put forth a fair and reasonable contract proposal and has been negotiating in good faith.
The wireline business continues to shrink as consumers turn away from traditional landlines and dial-up Internet access.  The company's significant investments in FiOS demonstrate our deep commitment to the future of the wireline business.  But, these investments are not yet generating the profits that begin to offset the losses from the traditional products and services.  That's why the company is trying to change its cost structure in order to compete effectively, grow and create future opportunities for our employees.
Verizon's contract proposal strives to ensure that our union-represented employees continue to receive compensation and benefits that are competitive with those at comparable companies.