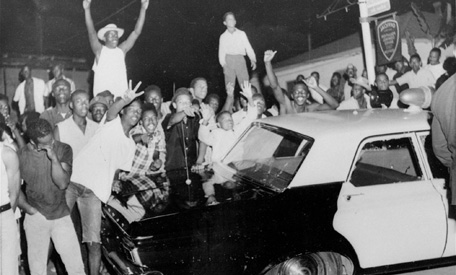 Podcast: Play in new window | Download
Subscribe: RSS
August 11, 2014 – Segment 1
Marc talks about what happened on this day in history, including the start of the Watts Race Riots, the day civil rights attorney Oliver White Hill Sr. was presented the Presidential Medal of Freedom by President Clinton, and the day the world's first roller rink opened in Rhode Island.
Today is
Independence Day, the east
African Nation of Chad celebrates its independence from France on this day in 1960.
International Day of Worlds Indigenous People, 8/9
National Day, celebrates the independence of Singapore from Malaysia in 1965
National Peacekeepers' Day (Canada) 8/10
National Women's Day (South Africa) 8/9
On this day
1860 –US's 1st successful silver mill is founded in Virginia, Nevada
1866 –Worlds first roller rink opens in Newport, Rhode Island.   The rink was opened by the New York Roller Skating Association.  The association was founded by James L. Plimpton.  Plimpton had patented the four wheel roller skate with turning capabilities,
1896 –Harvey Hubbel patents electric light bulb socket with a pull chain
1914 –France declares war on Austria – Hungary
1919 – Following defeat at the end of WWI German provisional President Frederick Ebert signs the Weimar Constitution, creating Germany's 1st parliamentary democracy.
1920 –The Latvian-Soviet Peace Treaty, which relinquished Russia's authority and pretenses to Latvia is signed ending the Latvian War of Independence.
1929 –The first Bud Billiken parade is held on this day in the city of Chicago, in 1929.  The character of Bud Billiken was the brainchild of youth editor for the Chicago Defender, Robert Watkins.  Watkins was inspired to create the Billiken character after dining in a Chinese restaurant where he heard of the Chinese named Billiken, the protector of children.  The Bud Billiken parade is the oldest African American parade in the country, It was created to give underprivileged black youth a day of celebration and a moment in the limelight.  The Bud Billiken parade was to also guide African American youth to take pride in their race and aspire to middle class sensibilities.  The parade draws over 1 million viewers every year.
1929 –Babe Ruth becomes the first baseball player to hit 500 home runs in his career with a home run at League Park in Cleveland, Ohio.
1934 –The first civilian prisoners arrive at the Federal prison on Alcatraz Island, on this day.  Alcatraz served as military prison from 1868-1934.  On the 11th of Augsut 1934 Alcatraz began operation as a maximum security prison for the nation's most dangerous and violent criminals.  Al Capone, George "Machine Gun" Kelly, Bumpy Johnson, James Whitey Bulger and Rafael Canal Miranda re amongst the prisons first inmates.
1939 –Sergei Rachmaninov makes his last appearance in Europe
1942 –Actress Hedy Lamarr and composer George Antheil receive a patent for a Frequency –hopping spread spectrum communication system that later became the basis for modern technologies and wireless telephones and Wi-Fi
1945 –Krakow Pogrom of 1945.  Anti-Semitism was rampant throughout the city of Krakow at the end of World War II.  Before the Second World War, Jews made up roughly one quarter of Krakow's population, numbering roughly 60,000 people.  By 1945 that number was closer to 6,000.  The surviving Jews in Krakow faced daily abuse and harassment daily at the hands of heir polish countrymen.  On the 11th of August this culminated into a massive riot that was disastrous for the Jewish community in the city.  The pogrom started after a young Polish boy was apprehended after being caught throwing stones at the Krupa street synagogue.  The boy fled the scene screaming for help as he exclaimed that a Jewish woman was attempting to kidnap and murder him.  A riot ensued as the non-Jewish citizens of Krakow took to the streets.  The Krupa street synagogue was ransacked and burned. Jews were dragged from their homes, their property looted and destroyed.  Jewish citizens ran for safety as they were beaten in the streets and arrested.  One casualty was recorded by authorities.  56 year old Auschwitz survivor Róza Berger was shot whilst standing behind closed doors.  The Krakow Pogrom was the first anti-Jewish riot in Poland.
1952 –Hussein bin Talal is proclaimed King of Jordan
1954 –A formal peace takes place, ending over seven years of fighting in Indochina between the French and Communist Vietminh
1959 –Clarence Matthew Baker, hall of fame comic book artist, died.  Baker was born on the 10th of December 1921 in Forsyth County North Carolina, and raised in Homestead, Pennsylvania.  He attended Cooper Union School of Engineering, Art and Design, and began work as a background artist in 1944.  Baker is credited for illustrating what is thought to be the first graphic novel, entitled "It Rhymes with Lust" (1950).  Baker is also credited with h work on the titles "Sky Girl", "Tiger Girl" and "Camilla, Queen of the Jungle Empire."
1960 –Chad declares independence from France
1962 –William Warrick Cardozo, physician, died.  Cardoza was a physician and pioneer in the research of Sickle Cell Anemia. William Warrick Cardoza was born on the 6th of April 1905 in Washington DC, Her received his Doctor of Medicine degree from Ohio State University in 1933.  Cardoza published research on Hodgkin's disease and early growth and development in Black Children.  On Sickle Cell Anemia, Cardoza Concluded inter alia; that the disease was hereditary; Sickle Cell was found almost exclusively amongst people of African descent; and that the disease was not always fatal.  In 1935, Cardoza was awarded a 2 year fellowship at Provident Hospital's Children's hospital in Chicago Illinois.  In 1937 he started his first private practice and later went on to serve as the medical director for the DC Board of Health for 24 years.  Cardoza was an instructor in pediatrics at Howard University.
1965 –The Watts race riots begin in the Watts area of Los Angeles.  Martin Luther King Jr. described the events leading up to the rebellion as "Environmental not Racial. The economic deprivation, social isolation, inadequate housing and general despair of thousands of Negroes teeming in the Northern and Western Ghettos are the ready seeds which give birth to tragic expressions of violence."  Indeed, the Watts Rebellion of 1965 was the culmination of years of discriminatory housing practices, economic hopelessness and harassment at the hands of the LAPD.  In addition, Los Angeles had passed, in 1964, Proposition 14; essentially giving landlords the right to deny housing to any persons based on sex, race, religion, sexuality and/or handicap. The passing of this act is often cited as one of the main catalysts for the 1965 rebellion.  On the day, the riot was sparked by the arrest of Marquette Fry, his brother and mother.  The family was arrested after Fry was pulled over by LAPD for speeding.  Less than an hour after the family was arrested, protestors took to the streets.   The Revolt lasted five days and was put down on the 15th of August after the arrival of 14,000 National Guardsmen and the implementation of a curfew that covered an area of 45 miles.  By the end of the riots, 34 people were killed, 1,032 injured, 4,000 arrested and an estimated $40 million in property.  The conditions of African Americans in Watts did not improve following the riots. President Lyndon B Johnson launched his 'War on Proverty' shortly after, and Programs were to be introduced to address fair housing and unemployment.  Unfortunately, much of the funds allocated for these programs were eaten up by the war in Vietnam.
1968 –The last steam hauled train runs on British Rail.  The 1T57 'Fifteen Guinea Special' named Oliver Cromwell was the last mainline passenger train to be hauled by steam locomotive power on British Rails.  The steam locomotive was met by 100's of enthusiastic crowds during its last journey between Liverpool and Carlisle.
1972 –The last United States ground combat unit leaves South Vietnam
1975 –US vetoes proposed admission of North and South Vietnam to the UN
1976 –Student leaders at the University of the Western Cape and other community leaders are arrested and detained at Victor ester prison near Paarl South Africa.
1982-A bomb on Pam Am flight 830 from Tokyo to Honolulu, explodes killing one teenager and injuring 15 other passengers
1999 –Civil Right Attorney, Oliver White Hill Sr. was presented the Presidential Medal of Freedom by President William Jefferson Clinton.  Hill won landmark legal decisions involving equality in pay for black teachers, voting rights and bringing an end to 'separate but equal'.  Hill won his first civil rights case in 1940 in Alston v School Board of Norfolk, VA, which gained pay equity for Black teachers. He also led the case of Davis v County School Board of Prince Edward County which was one of the five cases that decided Brown vs. Board of Education.  He was the first African American to serve on the Richmond city council.
2003 –Charles Taylor resigned as Liberia's president and went into exile in Nigeria
2003 –NATO takes over command of the peacekeeping force in Afghanistan, marking its first major operation outside Europe in its 54-year history.
2009 –Margaret Bush Wilson, lawyer and activist, died.  Wilson was born in St. Louis Missouri on the 3oth of January 30th 1919.  She was the second woman of color admitted to practice in Missouri.  Became chair of Missouri NAACP in 1975 a d went on to chair the NAACP National Board of Directors, becoming the first woman to hold this position.
Birthdays
1777 –Free Frank McWorter, the first African American to incorporate a municipality in the United States, born enslaved in South Carolina.
1778 –Fredrich Ludwig Jahn, German, known as the "father of gymnastics"
1861 –James Bryan Herrick, American cardiologist; studied sickle cell anemia
1873 –John Rosamond Johnson, composer singer and editor born in Jacksonville, Florida
1892 –Hugh MacDiarmid, Scottish poet
1897 –Louise Bogan, American poet and literary critic
1900 –Phillip Phillips, American archaeologist.
1921 –Alexander Murray Palmer Haley, author born in Ithaca, New York.
1925 –Carl Thomas Rowan, journalist, author and diplomat born in McMinnville, Tennessee.
1943 –Abigail Folger, American heiress and activist
1966 –Juan Maria Solare, Argentine pianist and composer
1983 –Pavel 183, Russian painter and activist
Today in Music
1904 –Pianist Jess Stacy born in Birds Point, MO
1908 –Russell Procope, alto saxophonist born in New York, NY
1939 –Benny Goodman records Fletcher Henderson's arrangement of Fats Waller's "Stealin' Apples"
1942 –Mike Hugg, drums, Manfred Mann (1964 No.1 singe 'Do Wah Diddy Diddy'
1948 –Bill Hurd, The Rubettes (1974 single 'Sugar Baby Love')
1956 –Elvis Presley's double sided hit Don't Be Cruel / Hound Dog', released.  The single went to No. 1 and stayed there for 11 weeks.
1962 –Neil Sedaka started a two week runt at no.1 on the US single chart with 'Breaking Up is Hard To Do'.
1969 –350 special guests were invited to see Motown Records new signings The Jackson five play at the Daisy Club in Beverly Hills, Califonia
Sources: The People History; This Day in Labor History; Wikipedia List of Historical Anniversaries; This Day in Women's History; This Day in African History;History.com; History Orb; Yenoba; Selected Black Facts; Phil Konstantin's North American Indian History; and This Day in Music