Podcast: Play in new window | Download
Subscribe: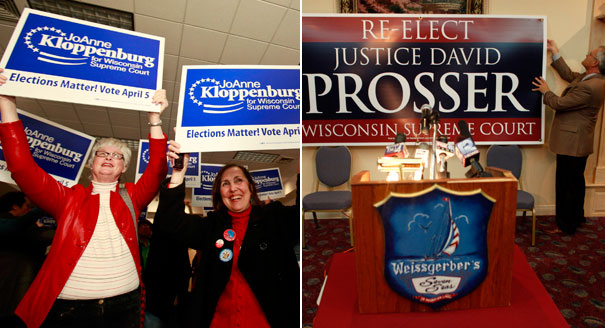 With the midterm elections just a few months behind us, it seems a bit early to be talking about the 2012 races.  But as elections get longer and longer, and with America ever-more divided between right and left, some are arguing that a seemingly minor race – for a seat on the Wisconsin Supreme Court – is actually the first battleground of the 2012 elections.  The controversy over Wisconsin Governor Walker's cuts to collective bargaining rights for state employees have focused the eyes of politicos on the state, and the close race – at last count there was a difference of 835 votes out of 1.5 million cast – is suddenly much more meaningful than anyone would have thought a few months ago.
We'll speak with Michael Snook, Director of Targeting and Analytics for the Progressive Change Campaign about the contest between David Prosser and Joanne Klopperberg for a seat on the court, and what if anything it means for next year's elections.