Podcast: Play in new window | Download
Subscribe: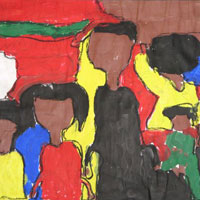 Join us for a discussion about arts education for children. 
Lea Gilmore
co-hosts.   She is the cultural correspondent for the Center for Emerging Media, Founder and Director of Umoja Musica, an international music and human rights organization, and was chosen by Essence Magazine as one of the 25 Women Shaping the World.
Joining Marc and Lea are:
Donald Hicken
, Theatre Department Head at Baltimore School for the Arts
Koli Tengella
, who teaches theater arts and acting at Collington Square Elementary and Middle School in Baltimore, and a 2011 OSI Fellow