Podcast: Play in new window | Download
Subscribe:
April 4, 2014 – Segment 1
Marc shares some of the events that happened on this day in history, including the establishment of NATO, the birth of Muddy Waters and Jill Scott, and the death of Adam Clayton Powell, Jr. and Rev. Martin Luther King. Jr.
Today is:
Independence Day, celebrates the independence of Senegal from France (1960).
International Day for Landmine Awareness and Assistance (International)
Peace Day (Angola)
On this day in history:
1147 – First historical record of Moscow.
1818: Congress decided the U.S. flag would consist of 13 red and white stripes represent the original Thirteen Colonies that rebelled against the British crown and became the first states in the Union, and 20 stars, with a new star to be added for every new state. The act specified that new flag designs should become official on the first July 4th (Independence Day) following admission of one or more new states.
1887 – Argonia, Kansas elects Susanna M. Salter as the first female mayor in the United States.
1949: The North Atlantic Treaty Organization (NATO) is established by 12 Western nations: the United States, Great Britain, France, Belgium, the Netherlands, Denmark, Italy, Luxembourg, Norway, Iceland, Canada, and Portugal
1964: The Beatles hold an unprecedented record of twelve positions on Billboard Hot 100 singles chart.
1967: The Reverend Martin Luther King, Jr. says in a speech that the United States stop all bombing of North and South Vietnam and declare a unilateral truce in the hope that it would lead to peace talks.
1968 – Apollo program: NASA launches Apollo 6.
1968: Jimi Hendrix, B.B. King, Buddy Guy, Joni Mitchell, Al Kooper and Ted Nugent met up for an all night blues, folk and rock session at The New Generation Club, New York after hearing the news of Martin Luther King's assassination.
1969 – Dr. Denton Cooley implants the first temporary artificial heart.
1975 – Microsoft is founded as a partnership between Bill Gates and Paul Allen in Albuquerque, New Mexico
1983 – Space Shuttle Challenger makes its maiden voyage into space (STS-6).
Born on this day in history:
1802 – Dorothea Dix, American activist (d. 1887)
1913 – Muddy Waters, American singer-songwriter and guitarist (d. 1983)
1928 – Maya Angelou, American author, poet, actress, and director
1928 – Estelle Harris, American actress
1932 – Clive Davis, American record producer, founded Arista Records and J Records
1932 – Anthony Perkins, American actor (d. 1992)
1939: Born on this day, Hugh Masekela, (1968 US No.1 single 'Grazing In The Grass').
1941: Born on this day, Soul singer Major Lance, died of heart failure 9th March 1994. (1964 US No. 5 & UK No.40 single 'Um, Um, Um, Um, Um, Um').
1942 – Richard Parsons, CEO of Dime Savings Bank, the first African American CEO of a large non minority U.S. savings institution, born.
1949 – Junior Braithwaite, Jamaican-American singer (Bob Marley and the Wailers) (d. 1999)
1965 – Robert Downey, Jr., American actor, singer, screenwriter, and producer
1972 – Jill Scott, American singer-songwriter and actress
On this day in history, we lost:
1841 – William Henry Harrison dies of pneumonia becoming the first President of the United States to die in office and with the shortest term served.
1968: Martin Luther King Jr. is shot to death by James Earl Ray at a hotel in Memphis, Tennessee. His assassination led to riots in more than 100 US cities and a call from the United States President Lyndon Johnson for citizen's to reject the blind violence that has taken Dr King who had lived by non-violence. James Earl Ray was convicted of his murder and sentenced to 99 years in prison.
1972 – Adam Clayton Powell, Jr., American pastor and politician (b. 1908)
2012: American artist Elizabeth Catlett died at the age of ninety-six. Catlett was known for being a sculptor and printmaker who was unafraid to create political statements in her art in order to highlight better rights for African-Americans and women. Catlett was barred from the US during the McCarthy era because of her political activisim and moved to Mexico.
2013: Widely respected and world renowned film critic Roger Ebert died at the age of seventy. Ebert had been suffering with thyroid cancer for several years and had lost his ability to talk after a jaw surgery related to the illness. Ebert had been most well known for his thumbs up or thumbs down rating system featured on a television show with his colleague Gene Siskel.
Sources: The People History; This Day in Labor History; Wikipedia List of Historical Anniversaries; This Day in Women's History; This Day in African History;History.com; History Orb; Yenoba; Selected Black Facts; Phil Konstantin's North American Indian History; and This Day in Music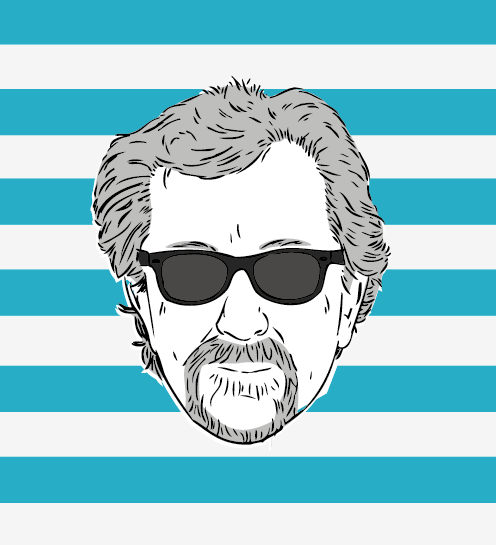 The Marc Steiner Show currently airs on The Real News Network. The show covers the topics that matter, engaging real voices, from Charm City to Cairo and beyond. Email us to share your comments with us.