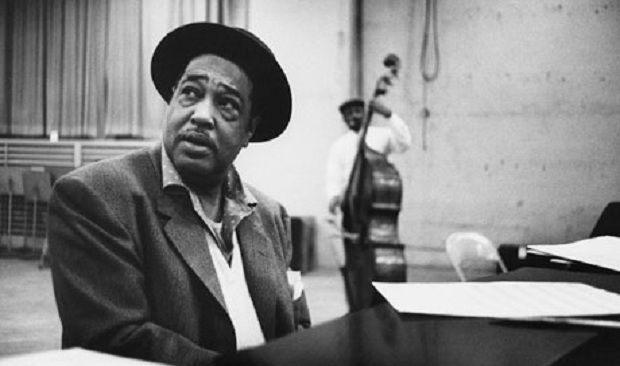 Podcast: Play in new window | Download
Subscribe: RSS
April 29, 2014 – Segment 1
Marc talks about what happened on this day in history, including the day Maryland's House of Delegates voted not to secede from the Union, the day Richard Wright's Black Boy became a number-one bestseller, and the day pianist, composer and bandleader Duke Ellington was born.
EVENTS
1832 – Évariste Galois is released from prison.
1861 – American Civil War: Maryland's House of Delegates votes not to secede from the Union.
1862 – American Civil War: New Orleans, Louisiana falls to Union forces under Admiral David Farragut.
1894 – Coxey's Army of 500 unemployed civil war veterans reaches Washington, D.C.
1899 – An estimated one thousand silver miners, angry over low wages, the firing of union members and the planting of spies in their ranks by mineowners, seize a train, load it with 3,000 pounds of dynamite, and blow up the mill at the Bunker Hill mine in Wardner, Idaho
1910 – The Parliament of the United Kingdom passes the People's Budget, the first budget in British history with the expressed intent of redistributing wealth among the British public.
1916 – Easter Rising: Martial law in Ireland is lifted and the rebellion is officially over with the surrender of Irish nationalists to British authorities in Dublin.
1943 – The special representative of the National War Labor Board issues a report, "Retroactive Date for Women's Pay Adjustments," setting forth provisions for wage rates for women working in war industries who were asking for equal pay. Women a year earlier had demanded equal pay for comparable work as that done by men
1945 – World War II: The German army in Italy unconditionally surrenders to the Allies.
1945 – The Dachau concentration camp is liberated by United States troops.
1945 – Richard Wright's 'Black Boy' reached first place on the National Best Seller Book List.
1946 – Father Divine, a controversial religious leader who claims to be God, marries the much-younger Edna Rose Ritchings, a celebrated anniversary in the International Peace Mission movement.
1951 – Tibetan delegates to the Central People's Government arrive in Beijing and draft a Seventeen Point Agreement for Chinese sovereignty and Tibetan autonomy.
1968 – The controversial musical Hair, a product of the hippie counter-culture and sexual revolution of the 1960s, opens at the Biltmore Theatre on Broadway, with its song becoming anthems of the anti-Vietnam War movement.
1968 – Poor People's Campaign began with Ralph Abernathy, SCLC president, leading delegation of leaders representing poor whites, Blacks, Indians, and Spanish Americans to Capitol Hill for conferences with cabinet members and congressional leaders.
1970 – Vietnam War: United States and South Vietnamese forces invade Cambodia to hunt Viet Cong.
1974 – Watergate Scandal: President Richard Nixon announces the release of edited transcripts of White House tape recordings relating to the scandal.
1981 – Buffalo, N.Y., grand jury indicted Pvt. Joseph G. Christopher of the U.S. Army on murder charges stemming from the racially motivated slayings of three African Americans in September, 1980.
1986 – The Chernobyl Disaster: American and European Spy Satellites capture the ruins of the 4th Reactor at the Chernobyl Power Plant
1992 – Los Angeles riots: Riots in Los Angeles, California, following the acquittal of police officers charged with excessive force in the beating of Rodney King. Over the next three days 53 people are killed and hundreds of buildings are destroyed.
1999 – The Avala TV Tower near Belgrade is destroyed in the NATO bombing of Yugoslavia.
2004 – Dick Cheney and George W. Bush testify before the 9/11 Commission in a closed, unrecorded hearing in the Oval Office.
2005 – Syria completes withdrawal from Lebanon, ending 29 years of occupation.
2013 – A powerful explosion occurs in an office building in Prague, Czech Republic, believed to have been caused by natural gas, injures 43 people.
BIRTHS
1863 – William Randolph Hearst, American publisher and politician, founded the Hearst Corporation (d. 1951)
1899 – Duke Ellington, American pianist, composer, and bandleader (d. 1974)
1901 – Hirohito, Japanese emperor (d. 1989)
1917 – Maya Deren, Ukrainian-American director, poet, and photographer (d. 1961)
1922 – Parren James Mitchell, first African American elected to Congress from Maryland, born
1933 – Rod McKuen, American singer-songwriter and poet
1938 – Klaus Voormann, German bass player and producer (Manfred Mann and Plastic Ono Band)
1947 – Tommy James, American singer-songwriter, guitarist, and producer (Tommy James and the Shondells)
1954 – Jerry Seinfeld, American comedian, actor, and producer
1957 – Daniel Day-Lewis, English-Irish actor
1958 – Michelle Pfeiffer, American actress and singer
1967 – Master P, American rapper, producer, and actor (TRU and 504 Boyz)
1970 – Andre Agassi, American tennis player
1970 – Uma Thurman, American actress
DEATHS
1916 – The O'Rahilly, Irish activist (b. 1875)
1951 – Ludwig Wittgenstein, Austrian-English philosopher (b. 1889)
1961 – Cisco Houston, American singer-songwriter and guitarist (b. 1918)
1980 – Alfred Hitchcock, English-American director and producer (b. 1899)
1993 – Mick Ronson, English guitarist, songwriter, and producer (The Spiders from Mars and Mott the Hoople) (b. 1946)
2008 – Albert Hofmann, Swiss chemist (b. 1906)
Sources: The People History; This Day in Labor History; Wikipedia List of Historical Anniversaries; This Day in Women's History; This Day in African History;History.com; History Orb; Yenoba; Selected Black Facts; Phil Konstantin's North American Indian History; and This Day in Music