Podcast: Play in new window | Download
Subscribe: RSS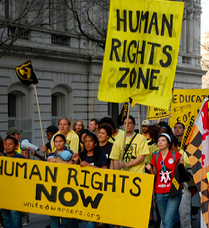 In the first hour of today's show, we sit down with members of the United Workers, a human rights organization in Baltimore made up of low wage workers striving to end poverty.  This Saturday, May 1st, they will host Our Harbor Day, a day of education, performance, and protest, as they highlight their struggle to improve working conditions at Baltimore's inner harbor. 
Joining us were:
Luis Larin, a leadership organizer with the United Workers who focuses on organizing low-wage workers in Baltimore's Inner Harbor.  
Raquel Rojas, a participant in the United Workers Poverty Scholars Program, as well as a former Cheesecake Factory employee in the Inner Harbor
Dominique Washington, a member of the United Workers, who worked at Five Guys in the Inner Harbor.
Nadja Martens, a member of the United Workers who worked as a server at Hard Rock Cafe and currently works at another Inner Harbor restaurant.
Katherine Caldwell, Director of the Human Right to Work with Dignity Program at the National Economic and Social Rights Initiative in New York. 
Our Harbor Day will begin at 11am at 2640 St. Paul Street on Saturday, May 1st. Participants will be bussed to locations downtown to take part in three participatory plays that highlight different aspects of the struggle for economic justice. The plays will be followed by a march to the Inner Harbor for a final demonstration. For more information,
click here
.
***************UPDATE*****************
We received this statement from the owner of the Inner Harbor Five Guys location where Dominique Washington was employed:
To Whom it May Concern,
 
We the Partners of J.J Fisher LLC., d/b/a Five Guys Burgers and Fries/ Inner Harbor feels that there has been an environment of miss-information and disparaging remarks being fed to the local media in regards to the work environment at the Inner Harbor location.
 
J.J Fisher LLC as an entity has always acted in line with the Fair Labor Standards Act and strict adherence to the by-laws of the EEOC. 
 
This particular employee was terminated because of repeated violations of our 'No call no show" policy.  Which states that if an employee is going to be late or absent on a particular day; then management should have prior knowledge.
 
Employee start / end date and  per hour wages can be furnished upon request.
 
Any further question feel free to contact the Management Team at the Inner Harbor.