Podcast: Play in new window | Download
Subscribe: RSS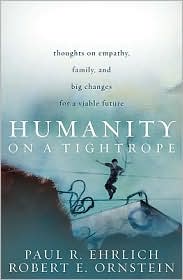 First, we have this week's installment of Spotlight on Maryland Housing with Maryland Housing Secretary Raymond Skinner.
Paul Ehrlich has taken the concept of sustainability seriously long before it was a buzzword.  Best known for his 1968 book The Population Bomb, Ehrlich's work as a biologist, writer, and educator has focused on the tension between population growth and limited resources.  He joins us today to talk about his work, including his new book, Humanity on a Tightrope.
We wrap up the hour with a poem for Earth Day from environmental writer Tom Horton.