Podcast: Play in new window | Download
Subscribe: RSS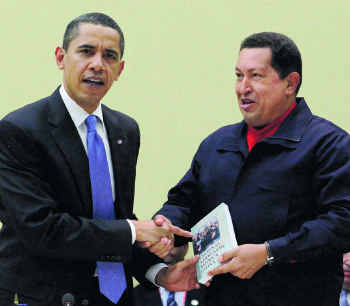 Last weekend the 5th annual Summit of the Americas took place over the weekend in Trinidad and Tobago. President Obama made news by warmly greeting Venezuelan president Hugo Chavez and discussing a new approach to Cuba. Our panel joined us to discuss those stories, the future of diplomacy between the U.S. and Latin America, and more.
William Kern is the editor and founder of Worldmeets.us, an innovative website that translates articles from the foreign press about the United States.

Christianna Leahy is a professor of comparative politics and is chair of the department of political studies and international studies at McDaniel College. She is a member of the board of directors of Amnesty International. She travelled to Cuba in 1994 with students from McDaniel College.

Ronn Pineo is the coordinator of Latin American studies at Towson University. He is the author of two books and several articles on the history of Latin America, and he lived in Mexico for several years.