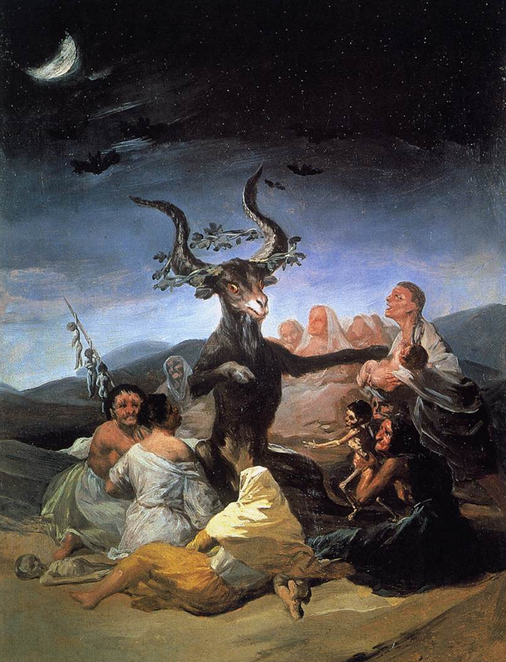 Podcast: Play in new window | Download
Subscribe: RSS
April 16, 2014 – Segment 1
Marc talks about what happened on this day in history, including the abolishment of slavery in Washington DC, the birthday of Charlie Chaplin and the day Spanish painter Francisco Goya died.
Events
73 – Masada, a Jewish fortress, falls to the Romans after several months of siege, ending the Great Jewish Revolt.
1521 – Protestant Reformation: Martin Luther's first appearance before the Diet of Worms to be examined by the Holy Roman Emperor Charles V and the other estates of the empire.
1847 – The accidental shooting of a Māori by an English sailor results in the opening of the Wanganui Campaign of the New Zealand land wars.
1862 – Abolishment of slavery in Washington, DC
1868 – Louisiana voters approved new constitution and elected state officers, including the first Black lieutenant governor, Oscar J. Dunn, and the first Black state treasurer, Antoine Dubuclet. Article Thirteen of the new constitution banned segregation in public accommodation: "All the persons shall enjoy equal rights and privileges upon any conveyances of a public character; and all places of business, or of public resort, or for which a license is required by either State, Parish or municipal authority, shall be deemed places of a public character and shall be opened to the accommodation and patronage of all persons, without distinction or discrimination on account of race or color."
1912 – Harriet Quimby becomes the first woman to fly an airplane across the English Channel.
1917 – Vladimir Lenin returns to Petrograd, Russia from exile in Switzerland.
1919 – Mohandas Gandhi organizes a day of "prayer and fasting" in response to the killing of Indian protesters in the Jallianwala Bagh massacre by the British colonial troops three days earlier.
1924 – First scat singing recorded. Don Redman performed the first recorded scat vocals while a member of Fletcher Henderson's Orchestra. Scat singing is an improvised vocal instrumentation composed of nonsense syllables. Don Redman scatted a few bars of "My Papa Doesn't Two-Time No Time," recorded in New York by Columbia. Although Louis Armstrong is generally credited with having recorded the first scat vocals, Don Redman actually preceded him by two years.
1925 – During the Communist St Nedelya Church assault in Sofia, Bulgaria, 150 are killed and 500 are wounded.
1944 – World War II: Allied forces start bombing Belgrade, killing about 1,100 people. This bombing fell on the Orthodox Christian Easter.
1945 – World War II: The Red Army begins the final assault on German forces around Berlin, with nearly one million troops fighting in the Battle of the Seelow Heights.
1963 – Dr. Martin Luther King, Jr. pens his Letter from Birmingham Jail while incarcerated in Birmingham, Alabama for protesting against segregation.
1972 – Apollo program: The launch of Apollo 16 from Cape Canaveral, Florida.
1973 – Lelia Smith Foley becomes the first African American woman to be elected mayor of a U.S. city (Taft, OK)
1990 – The "Doctor of Death", Jack Kevorkian, participates in his first assisted suicide.
2000 – n estimated 20,000 global justice activists blockade Washington, D.C., meetings of the World Bank and International Monetary Fund
2001 – India and Bangladesh begin a five-day border conflict, but are unable to resolve the disputes about their border.
2007 – Virginia Tech massacre: Seung-Hui Cho guns down 32 people and injures 23 before committing suicide.
2012 – The trial for Anders Behring Breivik begins in Oslo, Norway.
2013 – A 7.8-magnitude earthquake strikes Sistan and Baluchestan Province, Iran, the strongest in the country in 40 years, killing at least 35 people.
BIRTHS
1867 – Wilbur Wright, American pilot, engineer, and businessman, co-founded the Wright Company (d. 1912)
1889 – Charlie Chaplin, English actor, director, producer, screenwriter, and composer (d. 1977)
1919 – Merce Cunningham, American dancer and choreographer (d. 2009)
1924 – Henry Mancini, American composer and conductor (d. 1994)
1929 – Roy Hamilton was born in Leesburg, Georgia. Hamilton's biggest hits of the 50s were "Unchained Melody" and "You'll Never Walk Alone."
1933 – Ike Pappas, American journalist (d. 2008)
1939 – Dusty Springfield, English singer and producer (The Lana Sisters and The Springfields) (d. 1999)
1946 – Margot Adler, American journalist and author
1947 – Kareem Abdul-Jabbar, American basketball player and coach
1952 – Bill Belichick, American football player and coach
1962 – Ian MacKaye, American singer-songwriter, guitarist, and producer (Fugazi, Minor Threat, The Teen Idles, The Evens, and Embrace)
1971 – Selena, American singer-songwriter (Selena y Los Dinos) (d. 1995)
DEATHS
1828 – Francisco Goya, Spanish painter (b. 1746) 1994 – Ralph Ellison, American author and critic (b. 1913)1999 – Skip Spence, Canadian-American singer-songwriter and guitarist (Jefferson Airplane and Moby Grape) (b. 1946)
Sources: The People History; This Day in Labor History; Wikipedia List of Historical Anniversaries; This Day in Women's History; This Day in African History;History.com; History Orb; Yenoba; Selected Black Facts; Phil Konstantin's North American Indian History; and This Day in Music