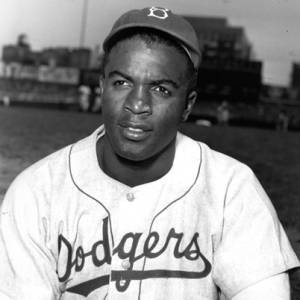 Podcast: Play in new window | Download
Subscribe: RSS
April 15, 2014 – Segment 1
Marc shares some of the events that happened on this day in history, including the day Jackie Robinson broke the major league baseball colorline, the adoption of the California Fugitive Slave Law, and the opening of the first McDonald's restaurant.
Today is:
Today, April 15, is Tax Day. From its beginnings the United States raised revenue. Whiskey and tobacco taxes provided much of the government's early revenue. But, financing the Revolutionary War was expensive and the young United States struggled to raise funds from the thirteen states: Resolved, That these United States be called on to pay in their respective quotas of fifteen millions of dollars in the year 1779, and of six millions of dollars annually for 18 years from and after the year 1779, as a fund for sinking the emissions and loans of these United States to the 31st day of December, 1778, inclusive.
1959 – African Freedom Day Declared – African Freedom Day is declared at the All-African People's Conference in Accra, Ghana.
Jackie Robinson Day – In 1947, Jackie Robinson debuts for the Brooklyn Dodgers, breaking baseball's color line.
On this day in history:
1777: Today, American settlers in Boonesborough will survive an attack by the SHAWNEEs. The fortifications of the town will prove to be too much for the Indians to surmount. The SHAWNEEs will try again on July 4, 1777.
1783 – The Continental Congress ratified preliminary articles of peace ending the Revolutionary War with Great Britain on April 15, 1783. International intrigue and intense negotiation preceded the formulation of these preliminary articles.
1850 – California Fugitive Slave Law adopted – The California Fugitive Slave Law, introduced earlier by state Senator Henry A. Crabb, was adopted by the State Legislature. It authorized any slave owner claiming a runaway to obtain warrant for the slave's arrest.
1861 – Blacks Denied Right to Fight for Country – President Lincoln called for 75,000 troops to put down the rebellion. Lincoln administration rejected Black volunteers. For almost two years straight Black Americans fought for the right, as one humorist put it, "to be kilt".
1879: On February 13, 1879 – Victorio, and 22 WARM SPRINGS APACHE Indians surrendered to Lt.Charles Merritt at Ojo Caliente, New Mexico. Eventually, 39 APACHEs come into the camp in west central New Mexico. Today, fears of being sent to a reservation, leads all of the Indians to escape from Ojo Caliente, and to eventually return to Mexico.
1915 – IWW union Agricultural Workers Organization formed in Kansas City, Mo.
1916 – Teacher unionists gather at the City Club on Plymouth Court in Chicago to form a new national union: the American Federation of Teachers
1919 – Start of ultimately successful six-day strike across New England by what has been described as the first women-led American union, the Telephone Operators Department of IBEW
1921 – Black Friday: mine owners announce more wage and price cuts, leading to the threat of a strike all across England.
1934 – Transport Workers Union founded
1943 – The 99th Fighter Squadron (Tuskegee Airmen-formerly the 99th Pursuit Squadron) left Brooklyn, NY, on board the USS Mariposa, as they headed off to fight in World War II on this date
1955 – The first McDonald's restaurant opens, in Des Plaines, Ill., setting the stage years later for sociologist Amitai Etzioni to coin the term "McJob." As defined by the Oxford English Dictionary, a McJob is "an unstimulating, low-paid job with few prospects, especially one created by the expansion of the service sector"
1960 – At Shaw University in Raleigh, North Carolina, Ella Baker leads a conference that results in the creation of the Student Nonviolent Coordinating Committee, one of the principal organizations of the African-American Civil Rights Movement in the 1960s.
1970 – During the Cambodian Civil War, massacres of the Vietnamese minority results in 800 bodies flowing down the Mekong River into South Vietnam.
1972, Roberta Flack started a six week run at No.1 on the US singles chart with 'The First Time Ever I Saw Your Face'. Written in 1957 by political singer/songwriter Ewan MacColl for Peggy Seeger, who was later to become his wife. At the time the couple were lovers, although MacColl was married to someone else. MacColl is the father of singer/songwriter Kirsty MacColl. The song was featured in the Clint Eastwood film 'Play Misty For Me.'
1980 – Zimbabwe, formerly known as Rhodesia gains its independence.
1982 – Five people found guilty of Anwar Sadat's assassination are executed.
1985 – Thomas "Hit Man" Hearns wins the World Middleweight title. This is one of five weight classes that he has won a boxing title making him the first Black to win boxing titles in five different weight classes.
1986 – US attempts an air strike at Colonel Muammar Kadhaffi's home in Libya.
1991 – EC lifts sanction previously imposed on South Africa (1985) as goodwill gesture for promised improvements to multi-racial society.
1992 – Air embargo is imposed on Libya by US.
1995, Montell Jordan started a seven week run at No.1 on the US singles chart with 'This Is How We Do It'
1996 – The Truth and Reconciliation Commission of South Africa holds its first formal hearings in East London, with Archbishop Desmond Tutu is the chairman.
2013 – Boston Marathon Bombings – Two pressure cooker bombs were set off at the Boston Marathon near the finish line, killing three people and injuring another two hundred and sixty-four people. The suspected bombers were named as Dzhokar and Tamerlan Tsarnaev. Police eventually chased down the suspects during a confrontation in which Tamerlan was run over by Dzhokar while trying to escape. Dzhokar was found hiding in a residential area on April 19th and police took him into custody after a stand off.
Born on this day in history:
1889 – Asa Philip Randolph, labor leader, activist, and organizer of the Brotherhood of Sleeping Car Porters, was born in Crescent City, FL
1894 – Bessie Smith, renowned blues singer, was born in Chattanooga, TN. She, along with Scott Joplin and Duke Ellington, are credited with bringing jazz and blues to major northern cities in the 1920's.
1922 – Harold Washington, the first Black mayor of Chicago, IL, was born there
1929 – Oscar DePriest was sworn in as Congressman (Illinois) on this date in 1929.  DePriest served three consecutive terms and was the first Black Congressman from the North.
1932, Born on this day, Roy Clark, US singer, (1969 US No.19 single, 'Yesterday, When I Was Young').
1939, Born on this day, Reginald Smith (Marty Wilde), 1959 UK No.2 single 'A Teenager In Love', plus over 10 other UK Top 40 singles). Father of 80's singer Kim Wilde.
1940, Born on this day, Clarence Satchell, The Ohio Players, (1974 US No.1 single 'Fire'). He died on 30th December 1995.
1944, Born on this day, Dave Edmunds, guitar, vocals, producer, Love Sculpture, (1968 UK No.5 single 'Sabre Dance'), solo (1970 UK No.1 and US No.4 single 'I Hear You Knocking'). Member of Rockpile.
1946 –  Wayne Gilchrest, (Rep-R-Maryland)
1947, Born on this day, Michael Chapman, Chinnichap productions, (producer and writer for Suzi Quatro, Mud).
1951 – Marsha S Ivins, Baltimore Maryland, astronaut
On this day in history, we lost:
1632 – George Calvert, Proprietor of the Avalon (Maryland) Colony (b. 1580)
1865 – President Abraham Lincoln
1978 – Thomas W. Turner founder of the Federation of Colored Catholics and charter member of the NAACP dies at age 101
2001, Punk pioneer Joey Ramone (Jeffrey Ross Hyman) singer of The Ramones died after losing a long battle with lymphatic cancer aged 49. On November 30, 2003, a block of East 2nd Street in New York City was officially renamed Joey Ramone Place.
Sources: The People History; This Day in Labor History; Wikipedia List of Historical Anniversaries; This Day in Women's History; This Day in African History;History.com; History Orb; Yenoba; Selected Black Facts; Phil Konstantin's North American Indian History; and This Day in Music