Podcast: Play in new window | Download
Subscribe:
November 10, 2016 – Segment 2
We have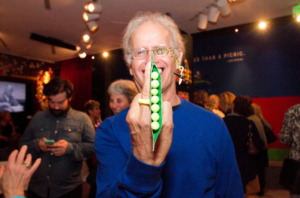 the newest episode of our series on our food and our world,
Sound Bites
. We begin the hour with a visit to the American Visionary Arts Museum's exhibit, 
YUMMM! The History, Fantasy, and Future of Food 
with 
Rebecca Hoffberger
, the Founder and Director of the American Visionary Art Museum.
Then I talk with two scientists about an important scientific advancement that could pave the way for a potential breakthrough in farming: Carbon-neutral fertilizer production. With: Dr. Katherine A. Brown, Staff Scientist at National Renewable Energy Laboratory; and Dr. Paul King, Staff Scientist and Manager of the Photobiology Group at National Renewable Energy Laboratory.