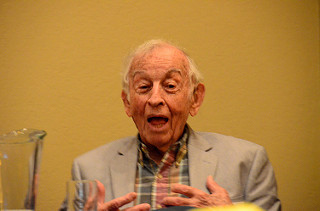 Podcast: Play in new window | Download
Subscribe: RSS
January 7, 2016 – Segment 2
Today during the newest edition of
Sound Bites
, our series about our food and our world, we begin with a look at environmental legislation that will be addressed in the 2016 Maryland General Assembly, in our Countdown to the 
Annapolis Summit
. Joining us will be  
Dru Schmidt-Perkins
, President of 1000 Friends of Maryland; and
Mitch Jones
, Senior Policy Advocate at Food and Water Watch.
We close out
Sound Bites
with a special tribute to the life and work of renowned cultural anthropologist
Dr. Sidney Mintz
, known as the Father of Food Anthropology. Mr. Mintz died on December 27, 2015 at the age of 93. Celebrating his life and work is 
Sarah Hill
, Associate Professor of Environmental and Sustainability Studies at Western Michigan University and author of the Boston Review article "T
he Sweet Life of Sidney Mintz
;"
Kevin A. Yelvington
, Professor of Anthropology at the University of South Florida; 
Richard Wilk
, Distinguished Professor of Anthropology at Indiana University and 
Jane Guyer
, George Armstrong Kelly Professor of Anthropology at Johns Hopkins University.