Podcast: Play in new window | Download
Subscribe: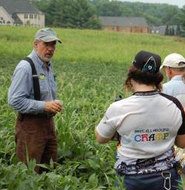 We present a new episode of 
Sound Bites
, a show about the future of our food system. We take an in-depth look at one story in particular, 
Nick's Organic Farm
in both Potomac and Frederick, MD. Farmer Nick Maravell's Potomac location is in jeopardy because of a Montgomery County plan to develop the land he has rented for the past 32 years into soccer fields. That plan is currently on a hold and pending trial.
We explore the complexity of this story and hear the history of Nick's Organic Farm with Nick Maravell and his daughter Sophia Maravell; Katie Griffith, Editor of the Potomac Patch; and Doug Scheussler, Executive Director of Montgomery Soccer, Inc., the organization the county selected to develop the land.