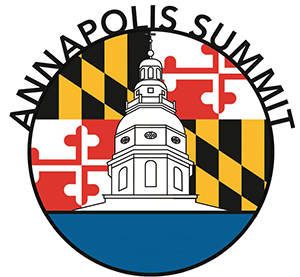 Podcast: Play in new window | Download
Subscribe: RSS
January 10, 2018 – The Annapolis Summit: Part 2
The 15th Annual Annapolis Summit convened on January 10, 2018, on the Opening Day of the Maryland General Assembly.  The Marc Steiner Show partnered with The Daily Record, as we have for the past 5 years.
 Before an audience of over 160 participants, I interviewed Maryland Governor Larry Hogan, Senate President Mike Miller, and Speaker of the House Michael Busch. A number of audience members lined up at the microphone and also asked their own questions of our state's top elected officials. We covered a myriad of issues, including the state of education, taxes, crime, sexual harassment, health care, bail reform, renewable and clean energy and more.
The first podcast begins with a brief 3-minute interview with Sara Arthur, President of the Maryland State Bar Association– the Presenting Sponsor for the 2018 Annapolis Summit — and then for the next 30 minutes you will hear the conversation with Governor Larry Hogan. The second podcast is the one-hour interview with Senate President Mike Miller and House Speaker Michael Busch. To hear part one of this podcast, with Governor Hogan,
click here
.