Podcast: Play in new window | Download
Subscribe: RSS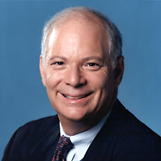 Maryland Senator Ben Cardin joined Marc live in the studio to discuss the issues facing America today. They discussed the 2008 Presidential election, the budget crisis, energy policy, the economy, and more.
And then, Marc spoke to people live in St. Paul at the 2008 Republican National Convention. First, he spoke with Iraq War Veteran and member of Iraq Veterans Against the War Nick Morgan and Sonia Silbert from the Washington Peace Center.  They have each been involved the protests in St. Paul, where over 300 protesters and some journalists have been arrested and 128 people held on felony charges.  Then he spoke with onetime Republican candidate for Maryland Comptroller Anne McCarthy, who is serving as an alternate delegate in Maryland's delegation to the RNC, and with Don Rush, the news director of WSCL public radio Delmarva on Maryland's Eastern Shore (hear more of Don Rush's coverage here)
CEM regrets that due to an engineering error, the first several minutes of Marc's interview with Senator Cardin were not recorded and we are unable to offer them for podcast or streaming.