Today during our second hour we bring you some great music!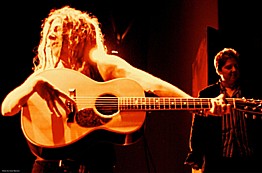 First, we're going to be joined by SONiA Rutstein and Laura Cerulli of disappear fear.  Their new CD, t a n g o, is a collection of thirteen songs in Spanish, Hebrew, Arabic and English on the themes of Love, Peace, and Equality.  This C.D. is a world of lush string arrangements, beautiful harmonies, and a view of the world that is most definitly unique.
And then…our friend Lea Jones is back.  In 1992 in a trailer on a dead end road in Washington State, he recorded 10 songs that were meant to serve as the soundtrack for Marc Waszkiewicz's documentary film Vietnam: An Inner View.  The documentary was never made; but the C.D. is finally being released to mark the 25th anniversary of the Vietnam Veterans Memorial.  It's called Selector Switch On (Rock and Roll).  Lea is in studio and will be playing some tunes; Marc will be by phone from Washington state.
 It will be a great hour so please join us! 
-Jessica